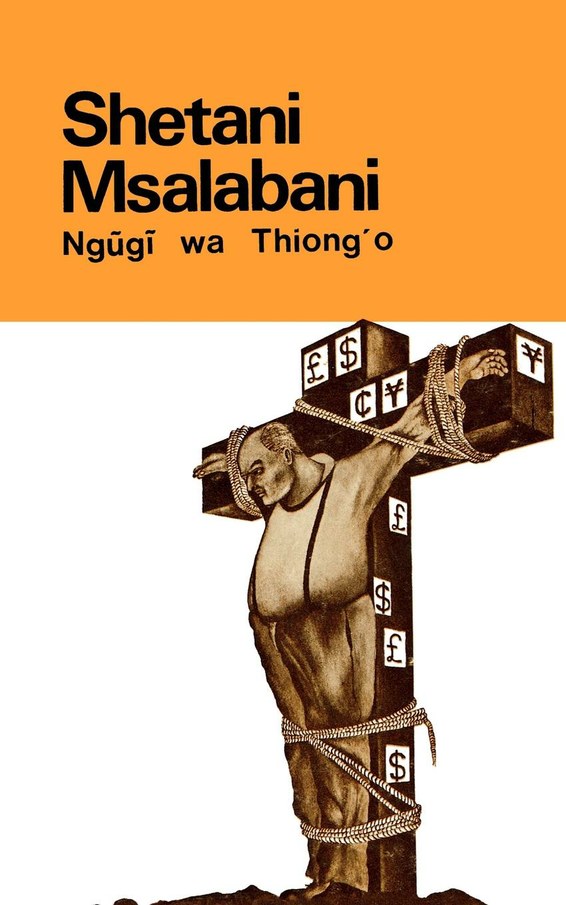 Shetani Msalabani
Shetani Msalabani ni hadithi ya wazalendo wanne. Wariinga, binti aliyeonewa fahari nchini, alikuwa msichana aliyehangaishwa na kunyanyaswa sana na vibaraka wa wabeberu. Wangari alikuwa mkulima mdogo, mzalendo aliyestaajabu si haba alipokwenda mjini Nairobi kutafuta kazi; hakuwa na makao maalum kwao kwa sababu ya kutaabishwa na mabepari. Muturi naye alikuwa mfanya kazi mwerevu mwenye ujuzi ambaye daima alipigania haki za wafanyakazi wajikomboe kutokana na kunyonywa jasho lao. Gatuira alikuwa kijana aliyeelimika sana, naye alipendelea sana utamaduni na huduma ya jamii. Wote walisafiri kwa matatu ya jambazi moja lililoitwa Mwauraandu; lilikuwa limeajiriwa na mabepari kutaambisha na kunyanyasa jamii – wote walikuwa wanaelekea mjini Ilmorog. Wezi na wanyang'anyi wa kisasa walijumuika kuchagua mabingwa saba katika wizi na unyang'anyi wa kisasa ili wavikwe taji na kuteuliwa kuwa wanyapara wa mali ya mabeberu nchini. Gitutu wa Gatanguru, Kihaahu wa Gatheeca, Ndituika wa Nguunji na Kimeenderi wa Kinyuanjii – walijigamba jinsi watakavyodhalilisha na kuwanyanyasa wafanyi kazi na wakulima wadogo, lakini Mwireri wa Mukiraai alinuia kujenga na kuimarisha ushirikiano wa mabepari asilia wa nchini . . . Wakati walipokuwa katika hekaheka za kujitapa wakafumaniwa na wazalendo wa Ilmorog pamoja na wananchi wengine mashujaa . . . Hadithi hii imeandikwa kwa umahiri mkubwa. Itakuchekesha, uvunjike mbavu na kutafakari. Hadithi hii imejaribu kuzungumzia jinsi shetani angalivyofukuziliwa mbali asiendelee kuthibiti mbinu zake za kutesa na kunyanyasa jamii humu duniani . . . .
Devil on the Cross, first published in Gikuyu as Caitaani Mutharabaini (1980) and here in Swahili as Shetani Msalabani, is a portrayal of corruption and how it has entrenched itself into the society. The celebration of corruption in all its forms, forces Wariinga, whom despair has driven out of Nairobi back to her home town of llmorog, to acknowledge that her life has been nothing more than passive acceptance of corruption itself. In this novel, the ancient rhythms of traditional story-telling are used in counterpoint to written styles. Ngugi provokes with the forces of Brecht, Bunyan, Swift and Beckett.
Available from these stores
Don't see your favourite store? Our eBooks are available from many more retailers, simply search with the ISBN to find it somewhere else.