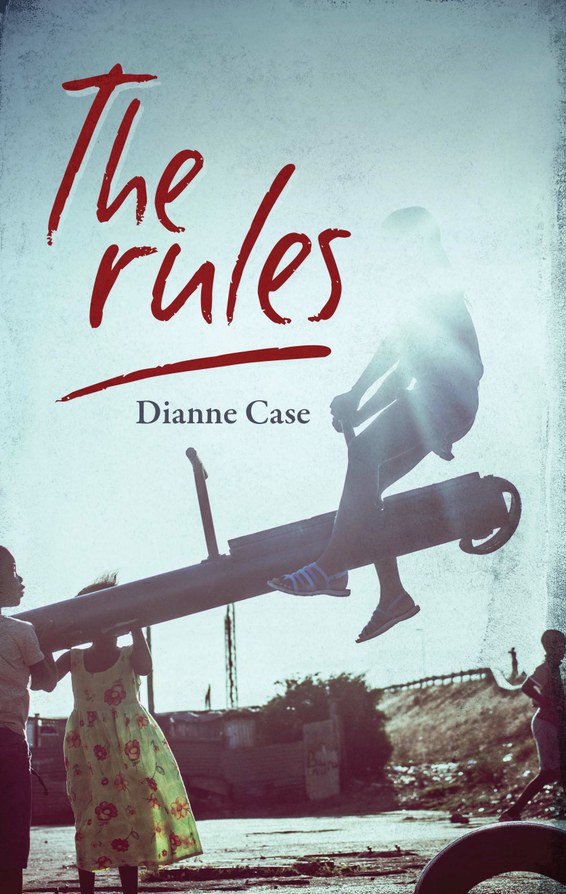 | | |
| --- | --- |
| ISBN | 9780992201845 |
| ePub ISBN | 9781928346289 |
| Pages | 194 |
| Dimensions | 216 x 140mm |
| Published | 2016 |
| Publisher | Cover2Cover Books, South Africa |
| Formats | Paperback, eBook |
The Rules
Teenage Adam obeys the rules and dreams big, of real soccer boots and of playing for South Africa one day. Jasmine, his twin sister, is street-smart and lives by her own rules. She dreams too, of a life outside of poverty. Meanwhile she saves all her coins in a glass jar on the top of Auntie Fouzie's cupboard. But things are changing. The country is facing a general election, Daddy didn't come home again last night, and Uncle Grootman is sitting in a wheelchair. Then Germany beats Brazil seven goals to one...
Available from these stores
Don't see your favourite store? Our eBooks are available from many more retailers, simply search with the ISBN 9781928346289 to find it somewhere else.
Reviews

'There are local teenage novels full of rape and resentment, and before you're halfway through you know the end is going to be bitter sad. There are other stories echoing the "real" township South Africa, but aching to end happily with hope for the future. And now there is The rules by Dianne Case. She doesn't shrink from any of the reality, from gang-war killing, bloody dog-fights, school vandalism, theft, poverty, even Auntie whose shortage of proper toilet paper gives her "the best-read bum in the world". Relentless compelling storytelling of sheer style. Characters springing to life (and often to despair). I trust that this excellent youth novel will have the impact it deserves.'

Jay Heale – BOOKCHAT

The Rules is one of those rare novels that offer a no-holds-barred slice of real-life. And Diane doesn't hold back. Twins Adam and Jasmine share their time between two homes, one in Manenberg, one in Goodwood. The rules for each household are different. In Goodwood you wash your hands before dinner. In Manenberg you don't talk to strangers and you don't meddle in other people's business. The idea of home has a different meaning for each sibling. Adam wants nothing more than to leave Manenberg. His sister Jasmine thinks he's crazy. She wishes their father never moved to Goodwood. It's beautifully written, but tough. Tough because it shines a spotlight on some hard realities – dog-fighting, child abductions, drugs, abuse, poverty, gang violence. It's dark, but that's what makes it beautiful. Kids learn empathy by experiencing the world from someone else's viewpoint. This is why I wrote a book from the perspective of the child bomber and not the victim. Books open the shutters. In a city where gentrification has become a way to paint over the scenes we don't like, The Rules reminds us that there are still people underneath. And they have an important story to tell. I can't recommend this book highly enough."

SA Partridge – BooksLive

'In lyrical prose, award-winning author and master storyteller Dianne Case takes us from the unforgiving streets of Manenberg to the tranquility of the most beautiful garden in Goodwood, as we follow the twins Adam and Jasmine on their quest for identity and truth. Like Love, David, The Rules is set to become a South African classic. This is a compelling read, memorable way beyond the last pages. Does it leave you with hope for our country? You decide.'

JEAN WILLIAMS – Executive Director Biblionef South Africa

"Dianne's writing is so real that you inhabit the body of a boy called Adam as he absorbs the savagery and offbeat kindness of his drug controlled community. Dianne takes us into the heart of notorious Manenberg and through Adam's matter of fact, fascinated eyes tells a story so compulsively alive, so accidentally funny, that you run full tilt among flying bullets, praying that Adam will somehow remain as beautiful as he is."

Tracey Farren, author of Whiplash, and Snake