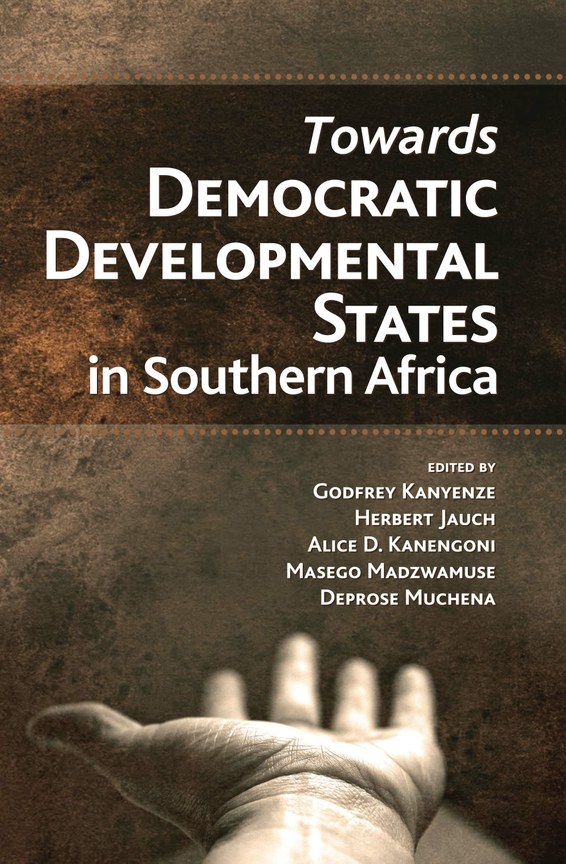 | | |
| --- | --- |
| ISBN | 9781779223074 |
| ePub ISBN | 9781779223081 |
| Pages | 382 |
| Dimensions | 229 x 152mm |
| Published | 2016 |
| Publisher | Weaver Press, Zimbabwe |
| Formats | Paperback, eBook |
Towards Democratic Development States in Southern Africa
The dawn of the twenty-first century heralded an apparent change of fortunes for most sub-Saharan African economies, with annual growth averaging over 5% for fifteen years. However, this was not accompanied by structural transformation: poverty, food insecurity, unemployment and inequality persist. Structural transformation has not been - and indeed cannot be - delivered by market forces and neoliberal economic policies; it requires a state committed to development, and to achieving it in a democratic way. To what extent do the countries of Southern Africa exhibit the characteristics of such a 'developmental state'? What steps, if any, do they need to take in order to become one? The book answers the questions with respect to South Africa, Botswana, Namibia, Zimbabwe, Angola and Malawi. Godfrey Kanyenze and his colleagues have assembled a distinguished team of writers to take the temperature of the regional political economy, and chart a path for its future development.
Available from these stores
Don't see your favourite store? Our eBooks are available from many more retailers, simply search with the ISBN 9781779223081 to find it somewhere else.
About the Editors

Godfrey Kanyenze is the Founding Director of the Labour and Economic Development Research Institute of Zimbabwe. He holds a Doctor of Philosophy (DPhil.) in Development Studies from the Institute of Development Studies at the University of Sussex in England. He began his professional career in 1986 as a Statistician with the Central Statistical Office (CSO) before joining the Zimbabwe Congress of Trade Unions (ZCTU) as an Economist / Consultant from May 1986 until September 2003. Godfrey was a Sub-editor of the Country Human Development Report (Zimbabwe) on Gender and Development, Poverty Reduction Forum, which was coordinated by UNDP & Ministry of Public Service, Labour & Social Welfare in 2005 and 2007. He Co-edited a book for the Alternatives to Neo-liberalism in Southern Africa Project – ANSA: The Search for Sustainable Human Development in Southern Africa published by Creda Communications of South Africa in January 2007. The book was launched in Johannesburg, South Africa on 13 January and the World Social Forum in Nairobi, Kenya on 23 January 2007 and is being launched in six SADC countries. Godfrey was a member of a Consultancy Team working on a 'Comprehensive Economic Recovery in Zimbabwe Programme' coordinated by UNDP. Until 2013, Godfrey was a member of the Board of Directors of the Reserve Bank of Zimbabwe (RBZ) and the Zimbabwe National Statistics Agency (ZIMSTAT). He is currently on the Zimbabwe National Productivity Institute and the Tripartite Wages and Salaries Advisory Board. He is also a member of the Technical Committee of the Tripartite Negotiating Forum (TNF). He has been invited at speak at the annual conferences of the Employers Confederation of Zimbabwe (EMCOZ), the Zimbabwe National Chamber of Commerce (ZNCC), the Confederation of Zimbabwe Industries (CZI) and the Institute of Chartered Secretaries and Administrators in Zimbabwe (ICSAZ) among others.

Herbert Jauch has been with the labour movement in Southern Africa for many years. He served in the leadership of the Namibia National Teachers Union as well as on various committees of the National Union of Namibian Workers. Since the mid-1990s, he has worked as a labour researcher, carrying out research projects for various Namibian and Southern African trade unions, mostly while being the director of the trade union based Labour Resource and Research Institute. Herbert holds an MA in political studies and currently heads the education centre of the Metal and Allied Namibian Workers Union.