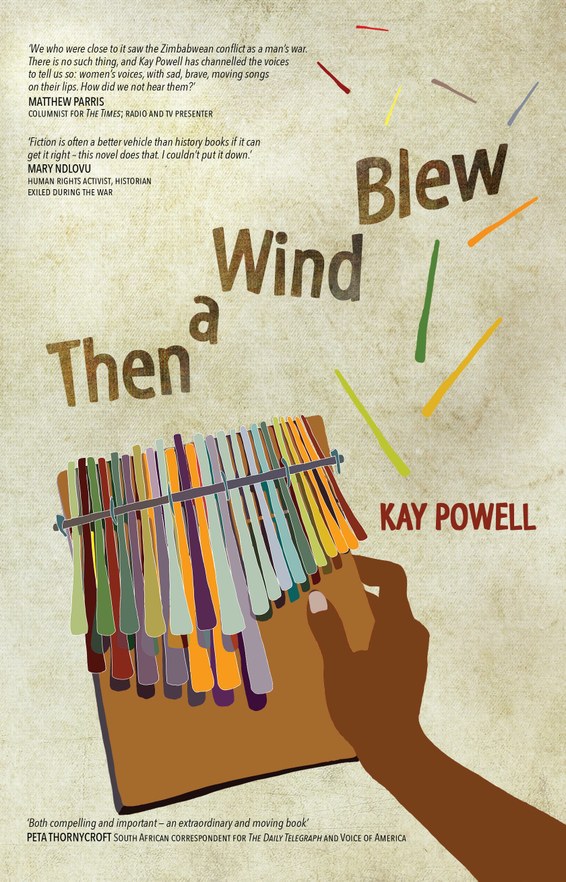 | | |
| --- | --- |
| ISBN | 9781779223838 |
| Pages | 220 |
| Dimensions | 216 x 140mm |
| Published | 2021 |
| Publisher | Weaver Press, Zimbabwe |
| Format | Paperback |
Then a Wind Blew
Then a Wind Blew is set in the final months of the war in Rhodesia, before it became Zimbabwe, and the story unfolds through the voices of three women. Susan Haig has lost one son in the war and seen her other son declared 'unfit for duty''. Nyanye Maseka has fled with her sister to a guerrilla camp in Mozambique, her home village destroyed, her mother missing. Beth Lytton is a nun in a church mission in an African Reserve, watching her adopted country tear itself apart.
The three women have nothing in common. Yet the events of war conspire to draw them into each other's lives in a way that none of them could have imagined. This absorbing and sensitive novel develops and intertwines their stories, showing us the ugliness of war for women caught up in it and reminding us that, in the end, we all depend on each other.
For a YouTube video on the book (author interview, and readings by leading actors), see: https://youtu.be/WclsQb6Ej8U
For a YouTube video of the launch of the book on 28 April 2021, in Bulawayo, Zimbabwe (on writing the novel, early feedback, and a Q&A session), see: https://www.youtube.com/watch?v=pA80a3aqNd4
Reviews
'The  tragedy of the war for Zimbabwean independence seen from both sides – a great work.'
Sally Roschnik (daughter of Guy Clutton-Brock, founder of a multiracial co-operative in Rhodesia, later imprisoned, then deported from the country in 1971)
'We who were close to it saw the Zimbabwean conflict as a man's war. There is no such thing, and Kay Powell has channelled the voices to tell us so: women's voices, with sad, brave, moving songs on their lips. How did we not hear them?' 
Matthew Parris (The Times columnist, and radio and TV presenter)
'A fascinating, ambitious and brave novel that will leave a lasting impression on the reader' 
Brian Chikwava, winner of the 2004 Caine Prize, and author of the widely acclaimed Harare North
'For anyone interested in Africa, and especially Zimbabwe, this is a book they should read. Personal, yet cleverly capturing the effect on all women of living in a war zone, it gives you a strong sense of being in Zimbabwe. And it will undoubtedly make you want to go there.'
Baroness Hoey of Lylehill and Rathlin (Kate Hoey; former Chair of the UK All-Parliamentary Group on Zimbabwe)
'Then a Wind Blew is an excellent read. Not an easy topic to write on, especially getting everything accurate and realistic, while still telling a gripping story, but Kay Powell succeeds admirably. I couldn't put it down. Fiction is often a better vehicle than history books if it can get it right – this novel really does that.' 
Mary Ndlovu (human rights campaigner, teacher and historian; during the war, lived in exile in Zambia with her husband, a Zimbabwean nationalist)
'Kay Powell's novel about women who were trapped in the brutality of the war for Zimbabwean independence, and tormented by it, is both compelling and important; their voices are now alive in this extraordinary and moving book.' 
Peta Thornycroft (South African-based correspondent for, inter alia, The Daily Telegraph and Voice of America)
'This is a unique and important book about the Zimbabwean conflict which ended in 1979 – a searingly poignant reminder that women on all sides often bear the brunt of wars, waged mainly by men. It is also relevant to the ongoing crisis in Zimbabwe; a clarion call for women to act assertively to prevent the excesses of violent men.'
Senator David Coltart (co-founder of MDC, Zimbabwe's opposition party; MDC MP 2000-2008; elected to the Senate in 2008)
'Kay Powell writes with the authority and love of one who knows the territory intimately. In Then a Wind Blew, her Africa comes to life on the page, its brilliant landscape darkened with the fear of war, the threat of violence, and the sadness of shattered hopes. A moving and illuminating novel.'
Lee Langley (multi-award-winning novelist, book reviewer for The Spectator, and Fellow of the Royal Society of Literature)
'The novel asks us to look away from images of war as an expression of male heroism in order to hear women tell the butter truths about war.'
'A must-read for all who are brave enough to consider and reconsider the prickly truths of the guerrilla struggle from the diversely provocative and evocative frames of reference of female voices of war.'
'Absorbing and haunting…this novel is atmospheric, lyrical, poignant and enlightening, made all the more engaging by the distinct and captivating voices of the three women whose lives and experiences [of the Rhodesia/Zimbabwe war] it lays bare.'
 'A compelling read… The writing is well-judged and powerful [and] there is some wonderful imagery… This is a thought-provoking and memorable book which both shocked and educated me in relation to the history of Rhodesia/Zimbabwe.'
'In a similar way to Chimamanda Ngozi Adichie's novel 'Half of a Yellow Sun', Kay Powell concentrates on the female experience of civil war… It's not an easy book to read, but it shouldn't be... War is harrowing, and knowing these experiences come from factual accounts and from an author who has lived there gives the story authenticity and makes it hit home even more strongly… I was left with an aching sadness for the people who lived through this war and the turbulent years since. This is a book that has made me think and will stay with me.'
'…This is a beautifully written novel … What sets it apart from other war-based novels is the fact that it focuses on the conflict from a predominantly female perspective. This was a first for me and until I read this book, was a point of view that I had given little or no consideration to, but one which needs to be talked about when you take into account all of the conflicts currently happening in various places around the world. … A truly haunting novel that will stay with me for many months to come.' 
"Then a Wind Blew is a beautiful and evocative book that traces the final, tragic year of the Zimbabwe independence war through the eyes of three women with very different perspectives and experiences of life and war in pre-independence Zimbabwe. Its genius is its very personal perspective and its refusal to take sides, letting the reader see the situation in the round and leaving them to come to their own judgements. If you want to understand the full tragedy of the bush war, the terrible toll it exacted on all involved and the enduring legacy it still imposes on this beautiful country and its wonderful people, please read this book. A beautifully written and haunting story that will stay with me for a long time to come."
Baron Oates of Denby Grange (Jonny Oates; current Co-Chair of the UK All-Party Parliamentary Group on Zimbabwe)
"Kay Powell's novel is an absorbing story, with many references to historical conflicts and atrocities … This exciting debut novel captures accurately the mood of anticipation from the black population and despondency from the white population in Rhodesia as Zimbabwe was born… [and] can with pride take its place on the shelves of Zimbabwean literature…"
'This is a complex novel which depicts the final turbulent months of war in Rhodesia, before its transition into Zimbabwe… Through using the voices of the three women, the author managed to successfully interweave a number of key themes, primarily the fight of the indigenous black population for independence from the Europeans…  There is plenty of material [in the novel] for a book group discussion."
Hilary Whorrall, NB Magazine, Spring 2021
'What a beautiful and emotional story! Quite a short book, with just over 200 pages, but such an incredible story packed into it… A must for anyone looking for a story written with a lot of heart, a lot of knowledge.'