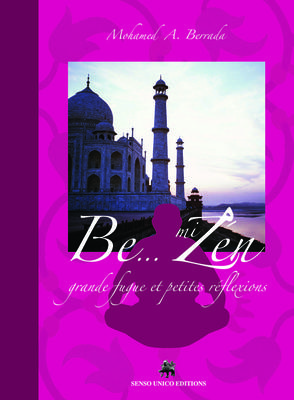 | | |
| --- | --- |
| ISBN | 9789954838396 |
| Pages | 136 |
| Dimensions | 210mm x 150mm |
| Illustrations | Colour Illustrations and Colour Photographs |
| Published | 2006 |
| Publisher | Senso Unico Editions, Morocco |
| Format | Paperback |
Be... miZen
Grande fugue et petites reflexions
« Plus mon avion se rapprochait de sa destination, New Delhi, plus je m'interrogeais sur ma vie, et sur les raisons qui me l'avaient fait fuir, si brusquement… » Ainsi commence le carnet de voyage de ce jeune Marocain, qui nous fait partager son beau périple indien, de Delhi à Jaipur, puis à Agra, à travers les routes du Rajasthan. Ce livre n'est pas seulement le récit d'une étonnante fugue au cœur de l'Inde authentique, il décrit aussi une quête d'équilibre et de sérénité, sur les traces de Bouddha, pour faire face à un mode de vie occidental de plus en plus difficile à supporter. Des réflexions, mûries au cours de ce voyage, naît une nouvelle manière de regarder la vie : « Be miZen », un subtil dosage de sagesses orientale, occidentale, et arabo-musulmane.
« La première démarche vers le bonheur ne serait-elle pas, justement, de veiller à s'offrir le plaisir des sens ? Anwar est, d'une façon primaire à l'écoute de ses sens, de son corps, de son instinct, qu'il satisfait à la moindre occasion. Rien ne l'arrête, ni la morale, ni la religion, ni la pression sociale, ni le manque d'argent ; il veut manger de bons petits plats : il se fait inviter dans les restaurants ; il veut connaître des femmes : il séduit des touristes voyageant seules. Serait-ce vraiment un des secrets du bonheur, écouter son corps et lui faire plaisir, sans s'encombrer d'aucun principe ? …Pourtant, dans sa longue quête du bonheur et du Nirvana, Bouddha était arrivé à une conclusion en apparente contradiction avec la maxime d'Anwar. ˝ Pour arrêter de souffrir, il faut arrêter de désirer ˝. Cela demande réflexion. » [Extrait de Be miZen, grande fugues et petites réflexions)
"The more my airplane got closer to its destination, New Delhi, the more I wondered about my life, and about the reasons that had made me flee from it, so suddenly…" These are the first lines of the travel-book of a young Moroccan who shares with the reader his amazing Indian journey, from Delhi to Jaipur, then to Agra and through the Rajastan roads. It is not just the story of an escape into the heart of genuine India, but also a quest for self-balance and serenity in Buddha's footsteps, in order to face a Western way of life hard to endure. From the deep thoughts matured during the journey rises a new vision of life: "Be miZen", meaning "scale, balance" in Arabic, is a subtle mix of Eastern, Western and Arab-Muslim wisdoms.