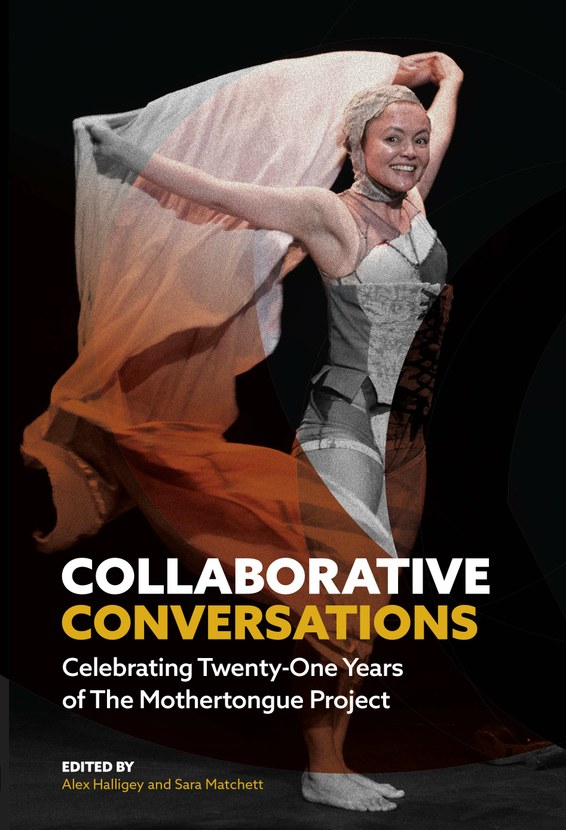 | | |
| --- | --- |
| ISBN | 9781928433163 |
| Pages | 256 |
| Dimensions | 234 x 156mm |
| Illustrations | Colour Photographs |
| Published | 2021 |
| Publisher | Modjaji Books, South Africa |
| Format | Paperback |
Collaborative Conversations
Celebrating Twenty-One Years of The Mothertongue Project
To celebrate Mothertongue's 21st anniversary, Collaborative Conversations weaves together the reflections of a group of artists, scholars and writers who have journeyed with the organisation over the last two decades.
Since its inception in 2000 with What the Water Gave Me, The Mothertongue Project has used participatory, integrated arts methods to create theatrical works that strive for personal and collective dialogue and healing in South Africa.
In poetry, scholarly writing and transcribed oral conversations, the contributors now think and feel their way through the aspirations and achievements - and the alchemy - of The Mothertongue Project's work. Accompanied by photographs of performances from across the 21 years, this book provides a sense of what a Mothertongue theatre piece does: it draws audience and performers into transformative, embodied conversations.
Includes work by Awino Okech, Genna Gardini, Koleka Putuma, Makgati Mokwena, Malika Ndlovu, Mwenya B Kabwe, Nicosia Shakes, Nina Callaghan, Ntomboxolo Makhutshi and Rehane Abrahams.
About the Editors
Sara Matchett is an associate Professor professor and the director of the Centre for Theatre, Dance and Performance Studies at the University of Cape Town, where she obtained her PhD. She is the co-founder and artistic director of The Mothertongue Project women's arts collective. She is also an associate teacher of Fitzmaurice Voicework® and the African regional co-ordinator of the Fitzmaurice Institute. Sara is also a breathwork practitioner. Her teaching profile centres around practical and academic courses and her research explores breath as a catalyst for generating images for performance-making. Her interests are in embodied practices that focus on presencing, co-sensing, co-llaborating and co-generating as a way of transforming egosystems to ecosystems.
Alex Halligey is a postdoctoral research fellow at the University of Johannesburg's Johannesburg Institute for Advanced Study. Her research is concerned with theatre and performance as research tools and conceptual lenses for exploring the relationship between people and the built environment. Her monograph Participatory Theatre and the Urban Everyday: Place and Play in Johannesburg was published by Routledge in 2020. Alongside scholarly work, she has an ongoing practice as a theatre maker. Recent productions include a solo memoir piece called Unfathomable, directed by and co-created with Athena Mazarakis, and an ensemble work called Diving, directed by Clara Vaughan. She first worked with The Mothertongue Project in 2005, co-devising and performing in Breathing Space and since then has had an ongoing relationship with the company and its members.