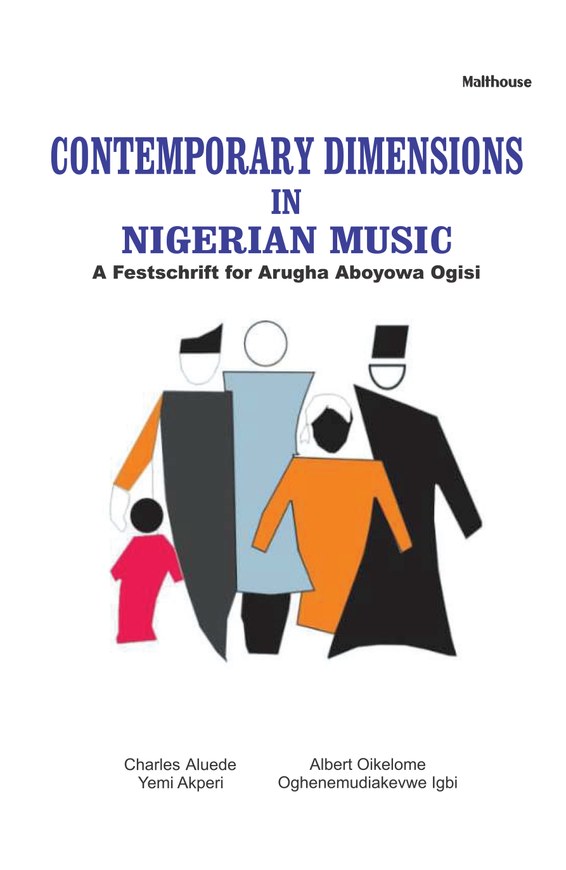 | | |
| --- | --- |
| ISBN | 9789785829785 |
| Pages | 318 |
| Dimensions | 229 x 152mm |
| Published | 2021 |
| Publisher | Malthouse Press, Nigeria |
| Format | Paperback |
Contemporary Dimensions in Nigerian Music
A Festschrift for Arugha Aboyowa Ogisi
From ancient to contemporary times, music in the area known as Nigeria has passed through different stages of transmutation. Primarily transmitted through oral means has in the last century received significant scholarly attention. Areas like folksong documentation, ethno-organological studies, popular music studies and art music have continued to feature in scholarly discourse. Societal dynamism allows room for scholarly reassessment and evaluation of aspects of Nigerian music; thus, reflecting change and continuity in the area. It is within this cusp that this book looks at contemporary trajectories in Nigerian music.
Contributors are Charles Aluede, Albert Oikelome, Yemi Akperi, Oghenemudiakevwe Igbi, John Aideloje Abolagba, 'Femi Adedeji, Samuel Ayodele Adegboyega, Emurobome Idolor, Opeyemi Adeyinka Asaolu, David Bolaji, Margaret Efurhievwe, Bruno Ekewenu, Sunday Ofuani, Enoh Okafor, Philo Igue Okpeki, Rotimi Peters Ologundudu, Edward Oluwagbemiga Olusegun, Bode Omojola, Peace Onyenye, Precious Omuku, Udoka Ossaiga, Akin Joseph Osunniyi, Isaac Udoh.
About the Editors
Charles Aluede is a Professor of Ethnomusicology and Music Therapy at Ambrose Alli University, Ekpoma, Nigeria.
Albert Oikelome is an Associate Professor of Music at the University of Lagos, Nigeria. He specialized in Choral Performance and Music.
Yemi Akperi ministers at Shepherd Baptist Church, Benin City and is an Adjunct Lecturer of Worship Theology and Hymnody at Baptist Seminary, Benin City. He has published scholarly works on the philosophies of music education and programmes in Nigeria.
Oghenemudiakevwe Igbi currently teaches Music in the Department of Theatre Arts, University of Africa, Toru Orua, Bayelsa State, Nigeria.