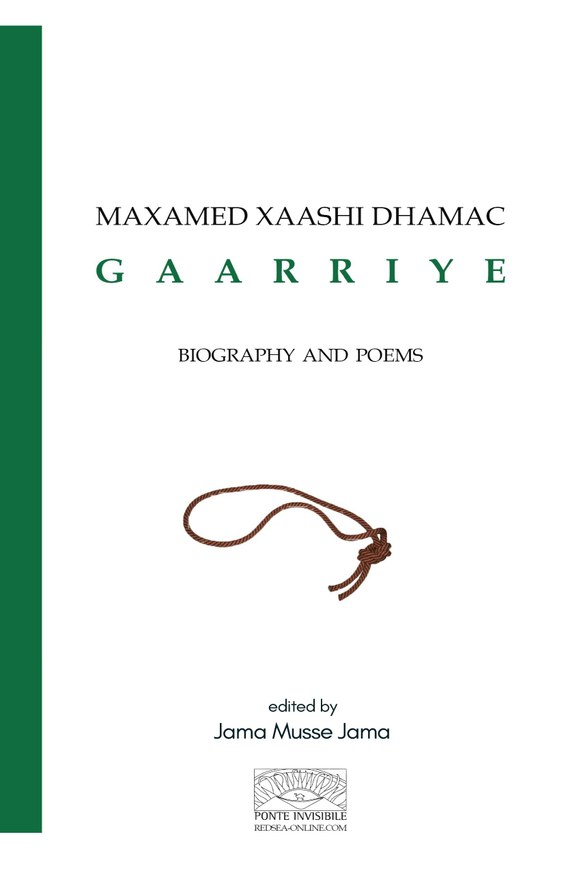 Maxamed Xaashi Dhamac "Gaarriye"
Biography and Poems
Maxamed Xaashi Dhamac "Gaarriye" (1951-2012) was a well-known Somali speaking contemporary poet. Originally from Hargeysa, Somaliland he was among many of his contemporaries living in Mogadishu in the 1970s, and whose works are credited with having great influence upon the prevalent sociopolitical situation in the country today. Thoughy largely motivated and moved by patriotic sentiments they were also sympathetic to the leftist political movements which were internationally popular in that era. Many themes such as an indefatigable advocacy of human rights, freedom of thought and expression, and a vehement hatred of all forms of human degradation were so brilliantly articulated in his poetry.
In this volume, alongside biography material, is a selection of some of Gaarriye's most lauded poetry, such as his master pieces on 'Nuclear Weapons', 'Nelson Mandela', 'Watergate' and 'Zimbabwe'. This book is the fifth in the "Iswaydaarsi" (Exchange) series which aspires to translate Somali literature and wisdom into other languages, and at the same time providing specific knowledge of international classical literature to the Somali speaking readership.
About the Editor
Dr. Jama Musse Jama is an ethnomathematician, holds a PhD in African Studies specialising in Computational Linguistics of African Languages, and has authored and edited several books. Doctorate from Oriental University of Naples, MSc Summa cum laude in Mathematics from University of Pisa, Dr. Jama lectured in different universities. He is known for his research on traditional African games and their possible use within formal education. A cultural activist, historical researcher and a preserver of Somali oral histories, Dr. Jama is the founder of Hargeysa Cultural Centre and Hargeysa international Book Fair - one of the most important influential literature festivals in Africa. In 2018 he hosted the 13th International Congress of Somali Studies International Association in Hargeysa where he become formal President of the Association during the tenure 2018-2020.