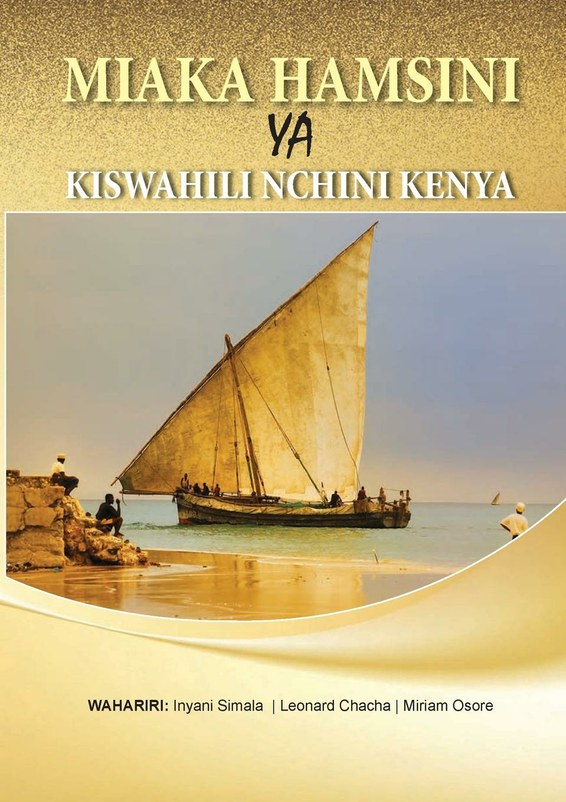 | | |
| --- | --- |
| ISBN | 9789966028488 |
| Pages | 288 |
| Dimensions | 210 x 148 mm |
| Published | 2014 |
| Publisher | Twaweza Communications, Kenya |
| Format | Paperback |
Miaka Hamsini ya Kiswahili Nchini Kenya
Miaka Hamsini ya Kiswahili Nchini Kenya ni mkusanyiko wa makala yaliyowasilishwa katika kongamano la kimataifa la Kiswahili lililoandaliwa na Chama cha Kiswahili cha Taifa (CHAKITA) mwaka 2013, na likafanyika katika Chuo Kikuu cha Kikatoliki cha Afrika Mashariki (CUEA). Makala chache zimetokana na kongamano la mwaka 2012 lililofanyika katika Chuo Kikuu cha Kenyatta.
Kitabu hiki kinadhihirisha umuhimu wa lugha ya Kiswahili katika nyanja mbalimbali za jamii. Kwa hiyo, utapata humu ndani makala  yanayoangazia ufundishaji wa lugha ya Kiswahili; Kiswahili kama nyenzo ya maendeleo ya uchumi wa taifa; mchango wa Kiswahili katika kuleta uwiano na utangamano wa kitaifa; utafiti wa Kiswahili katika lugha na fasihi; Kiswahili na ujenzi wa taswira ya mwanamke; fasihi ya watoto katika Kiswahili; na athari za Sheng kwa Kiswahili. Kwa ufupi makala yaliyomo humu yanashadidia maendeleo ya Kiswahili katika miaka hamsini iliyopita nchini Kenya.
Hiki ni kitabu muhimu sana kwa wanafunzi na walimu wa Kiswahili. Pia ni kitabu kitakachomnufaisha yeyote anayependa Kiswahili na anayetambua mchango wake katika jamii.
Fifty Years of Kiswahili in Kenya is a collection of articles that were presented at an international Kiswahili conference organized by the National Kiswahili Association (CHAKITA) Kenya in 2013, which was held at the Catholic University of Eastern Africa (CUEA). A few articles are however from a similar conference held in 2012 at Kenyatta University.
The book exemplifies the importance of the Kiswahili language in various sectors of society. Therefore, within this book you will find articles that focus on the teaching of the Kiswahili language; Kiswahili as a tool for national economic development; the contribution of Kiswahili to national cohesion and integration; Kiswahili research in language and literature; Kiswahili and portrayal of women; children's literature in Kiswahili; and how Sheng affects Kiswahili. In short, the articles herein are a testimony of how Kiswahili has developed in the last fifty years in Kenya.
This is a very important book for Kiswahili students and teachers. It is also an invaluable text for Kiswahili enthusiasts and all those who recognize its contribution to society.