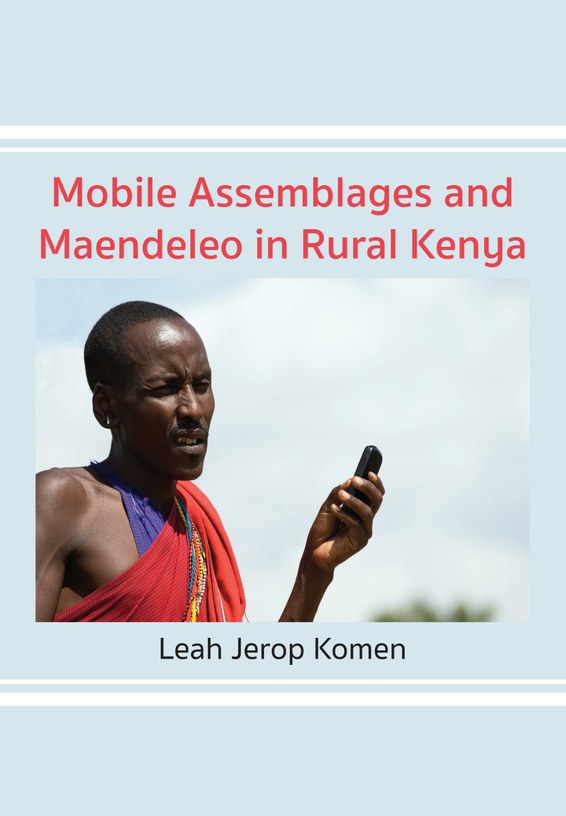 | | |
| --- | --- |
| ISBN | 9789956552849 |
| Pages | 208 |
| Dimensions | 229 x 152mm |
| Published | 2021 |
| Publisher | Langaa RPCIG, Cameroon |
| Format | Paperback |
Mobile Assemblages and Maendeleo in Rural Kenya
In this book, Leah Komen explores the impact of mobile telephony on the lives of people in rural Kenya. The book analyses the outcomes of complex intersections and interactions between mobile phones, individuals, and the broader society as distinct from the traditional cause-effect relationships in the discourse of development in the changing world. It subverts the traditional notion of synchronic development that ignores target populations' involvement in decision-making and sees development from the lens of developed economies where information and communication technologies like mobile telephones have originated. Komen's analysis advances a diachronic type of development that focuses on human technology's interrelationships instead of the synchronic model that privileges technology as engendering social transformations and development. The diachronic model is fundamentally Maendeleo, a Swahili term denoting process, participation, progress, and growth, and views social transformations and development as an interaction between mobile telephony users and their specific contexts. The book argues that the mobile phone has become an increasingly personalised device. It encourages a sense of community through the sharing of the device by multiple users, promotes co-presence and interpersonal communication, enhances kinship ties and social connectedness, and creates new ways of organising and conducting everyday socioeconomic activities. However, it also can disintegrate relationships and remodel some. This is a book about power negotiation, gender relations, cultural inclinations, and socio-economic dispositions within the context of mobile telephony's domestic use to facilitate social change and development.
Reviews
"In this book Leah Komen takes the reader by the hand and explores the use of mobile communication in rural Kenya. She is a scholar who is uniquely qualified to be our guide as she is well-grounded in the local context and she has the insight with which to understand mobile communications effect on local lives. The book provides an ethnographic examination of how mobile communication has transformed and developed (she uses the Swahili word maendeleo) the lives of women in Marakwet, Kenya. Along the way, she provides us with an overview of different and perhaps unexpected, trajectories. [....] Komen helps us to understand how mobile communication changes and alters the functioning of social institutions, but also how social institutions are often quite robust."
Rich Ling, Professor of Media Technology, Nanyang Technological University, Singapore
"This study by Leah Komen is an excellent illustration of the creative appropriation of ICTs by otherwise marginalised Africans to activate and extend themselves in ways that challenge conventional articulations of power and keep hope alive."
Francis B. Nyamnjoh, Professor of Social Anthropology, University of Cape Town