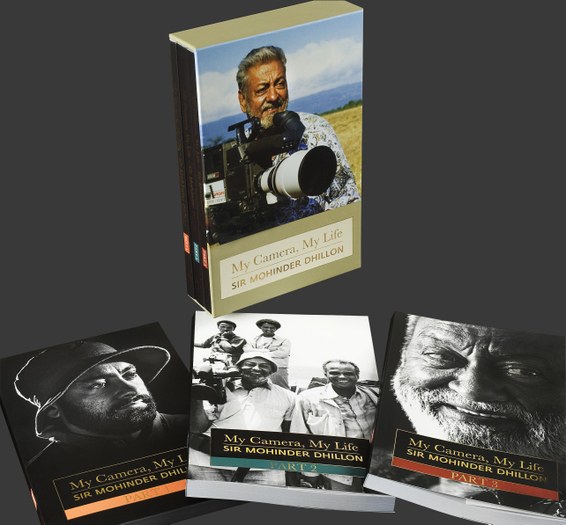 | | |
| --- | --- |
| ISBN | 9789987753604 |
| Pages | 687 |
| Dimensions | 229 x 152mm |
| Illustrations | Colour Photographs |
| Published | 2016 |
| Publisher | Mkuki na Nyota Publishers, Tanzania |
| Format | Hardback |
My Life, My Camera
The remarkable life-story of Mohinder Dhillon, a frontline news cameraman on the world stage, from his start as a budding photojournalist in Kenya. His story covers many of the seminal African and world events from the 1950s, documenting the changing face of an Africa liberated from colonial rule. His reporting covers many of the following internal conflicts including the Zanzibar Revolution of 1964, the Simba Rebellion in the Congo, the Siege of Stanleyville, the Aden War, the rise and fall of Idi Amin and the expulsion of the Asian minorities, and was on the frontline recording the fall of Ian Smith's Rhodesia and the birth of Zimbabwe. He was the official cameraman to Haile Selassie, and later recorded the Ethiopian famine in the 1980s, footage that shocked the world, raising millions of dollars in famine relief. After this golden age of television news, the waning of foreign interest in Africa, and rapidly advancing video technology, he focussed on making full-length television documentaries. In this period, he recorded the grim ecological impacts post the Vietnam war; and also undertook another news assignment to film the shattered, war-torn country of Afghanistan in the aftermath of the Soviet invasion. He recalls the horrific events of the 1988 US Embassy bombing in Nairobi and the 2013 terror attack on the city's Westgate Mall. Reflecting on the triumphs and tragedies of his life, his story is imbued with passion and gentle humour, a love of his adopted Kenya from his Sikh roots in the Punjab. It is a moving story of what it means to be human in the face of unspeakable suffering and violence.
Reviews
"Mohinder Dhillon is a one-off – a pioneering news cameraman of the kind we may never see again. So read now, while stocks last, and enjoy!"
Jon Snow, Presenter, Channel Four News UK
"An exceptional person with high ideals and strong principles, Mo Dhillon is one of a kind. His writings are both instructive and inspiring."
Richard Leakey