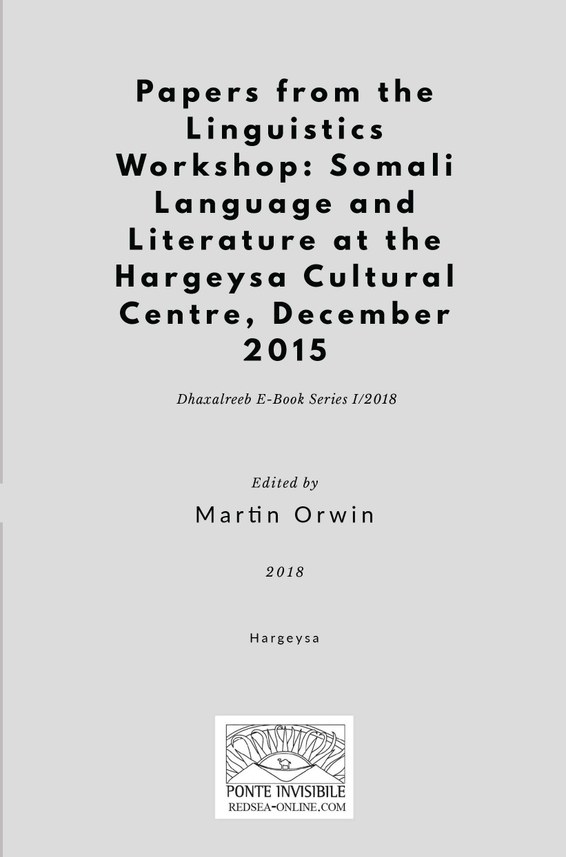 Papers from the Linguistics Workshop
Somali Language and Literature at the Hargeysa Cultural Centre, December 2015
The articles in this book are the result of the First Linguistics Workshop: Somali Language and Literature at the Hargeysa Cultural Centre in December 2015.
The objective of the workshop was to facilitate the sharing of current work among scholars in the field of Somali language studies through presentation of their ongoing projects. This also allowed current work to be opened to a wider audience and for students, journalists and writers to hear about some of the issues which are of current interest in Somali language studies. There was a deliberate attempt to draw people engaged in both more strictly linguistic matters together with those whose interests are more as practitioners with language, such as local writers and journalists, and also to include those whose primary focus is literature.
This led to a diverse range of both presentations and opinions on those presentations, which is represented also in this volume. The views on any matter are those of the individual authors and readers are left to determine for themselves to what extent they agree or disagree with points made. The more strictly linguistic papers include presentations on aspects of Somali phonology, morphology and syntax. Sociolinguistics is also represented as is recent work on lexicography and the use of information technology in Somali language studies. There are two papers which consider literature from different perspectives.