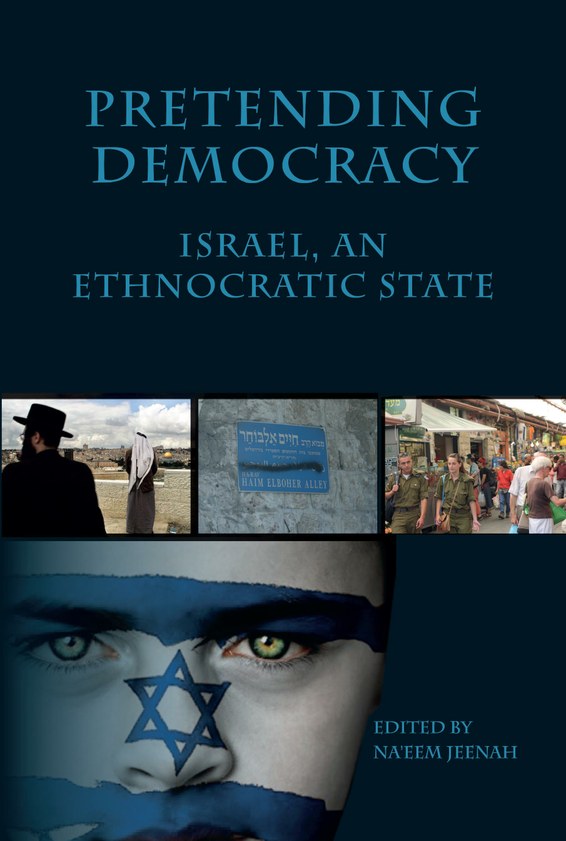 | | |
| --- | --- |
| ISBN | 9780620540421 |
| Pages | 418 |
| Dimensions | 229 x 152mm |
| Published | 2013 |
| Publisher | Afro-Middle East Centre, South Africa |
| Format | Paperback |
Pretending Democracy
Israel, and Ethnocratic State
This powerful collection from an international mix of respected academics, newer voices and political activists explores the place of Israel as a Jewish state in today's modern world – a world in which identities, citizenship and human rights are defined in increasingly cosmopolitan and inclusive ways. Offering compelling and comprehensive arguments as to why Israel falls into the category of an ethnocentric state, the contributions to this volume explore four central themes. They reveal the reality behind Israel's founding myths. They document the experiences of some of those who have fallen victim to this ethnic state. Then, they draw comparisons with other ethnic states, notably South Africa, and finally, they point towards the radical hope of achieving a single nation, united, peaceful and just. Unpacking both Jewish and Palestinian nationalism, the nation-state, and ethnic nationalism, this fascinating collection offers new insights into one of the world's most intractable conflicts. It will appeal not only to scholars and teachers, but to anyone interested in the history, politics, anthropology and legal standing of Palestine-Israel.
Contributors: Ali Abunimah, Neville Alexander, Max du Plessis, Steven Friedman, Daryl Glaser, Ran Greenstein, Heidi Grunebaum, Adam Habib, Na'eem Jeenah, Ronnie Kasrils, Smadar Lavie, Fouad Moughrabi, Nadim N Rouhana, Shlomo Sand, Avi Shlaim, Azzam Tamimi, Salim Vally, Oren Yiftachel, Andre Zaaiman
About the Editor
Na'eem Jeenah is director of the Afro-Middle East Centre in South Africa. His research areas include the Middle East and political Islam.