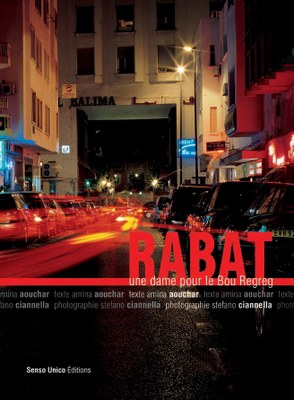 | | |
| --- | --- |
| ISBN | 9789954494011 |
| Pages | 192 |
| Dimensions | 330mm x 240mm |
| Illustrations | Colour Illustrations and Colour Photographs |
| Published | 2007 |
| Publisher | Senso Unico Editions, Morocco |
| Format | Hardback |
Rabat
une dame pour le Bouregreg
Rabat est une ville qui, tout en aspirant à la modernité, n'entend pas la subir et préserve son histoire et ses traditions dans la discrétion de ses pierres et ruelles. Les vestiges anciens sont rarement relégués au simple rang de monument historique et ils conservent, à l'abri du temps, un mode de vie ancien, à la fois contradictoire et complémentaire de cette modernité vers laquelle la ville tend de plus en plus. Dans ce livre, la parole et l'image ont une égale importance, un pouvoir d'exaltation réciproque. Ainsi, le regard de l'auteur et du photographe se croisent-ils et se complètent. Une série d'images, où modernité et passé se côtoient, sont le joli prétexte qui permet à l'auteur de décrire l'actuel tout en valorisant le passé. L'itinéraire est tracé par le hasard, le photographe se promène en fixant son objectif sur tout ce qui retient son attention. Sa technique et sa sensibilité forcent le lecteur à un moment de réflexion. Il retient, par l'image, ces sensations contrastées que l'on ressent parfois, en promenant le regard d'un côté à l'autre d'une même rue ; sensations trop fugaces pour que l'œil en cueille le sens au moment où il les perçoit. La photo-documentaire devient ainsi une œuvre esthétique de grande valeur.
Les textes sont rédigés avec élégance et subtilité au cours d'une agréable promenade, permettant à l'ouvrage de devenir une définition de la ville, telle que les R'batis et les visiteurs la vivent aujourd'hui.
Rabat is a city which aims for modernity but refuses to be subjected to it. The secrecy of its stones and back-alleys preserve the city history and traditions. The ancient vestiges are not to be considered as just relics of the past: sheltered from the passing of time, they retain a traditional way of living, which is at the same time complementary and in contradiction to the modernity for which the city strives. The itinerary is chosen at random: the photographer strolls through the city and points his camera on whatever draws his attention and curiosity. His photographs hold contrasting emotions, so fleeting that the eye hardly catches them. Although this is mainly a photographic book, words are nonetheless important: images and words have a mutual power of elation when the eyes of the photographer and the author meet. The sequence of photographs, which show modernity and past in close contact, are a fine pretext for the author to explain "what is" and to remind "what was", in this "definition" of Rabat, as it is lived nowadays by the Rabatis but also by tourists.