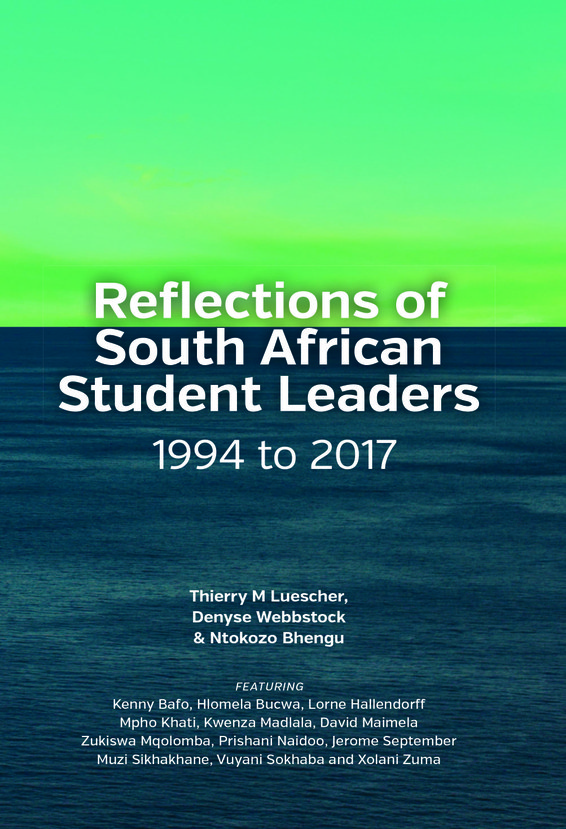 | | |
| --- | --- |
| ISBN | 9781928502098 |
| Pages | 348 |
| Dimensions | 244 x 170mm |
| Published | 2020 |
| Publisher | African Minds Publishers, South Africa |
| Format | Paperback |
Reflections of South African 
Student Leaders

1994 to 2017
Reflections of South African Student Leaders 1994-2017 brings together the reflections of twelve former SRC leaders from across the landscape of South African universities. Reviews of the previous volume, 1981-2014 suggested that it contributed significantly to a better understanding of the stringent demands of visionary and transformative leadership required by university leaders in the fastchanging and increasingly complex public higher education sector.
This volume is based on comprehensive interviews with former student leaders, each of whom provided a personal account in their own words of their experience in the position of student leadership. The interviewees are from different backgrounds and of diverse political persuasions. The book is important for current and future leaders of higher education institutions as it provides insights into the thinking, aspirations, desires, fears and modus operandi of student leaders. Such insight can contribute to developing and implementing appropriate strategies for achieving meaningful and constructive engagement with current and future student leaders.
About the Editors
Dr Thierry Luescher-Mamashela is at the University of the Western Cape.
DENYSE WEBBSTOCK is the Senior Director: Institutional Planning, Evaluation and Monitoring at the University of Johannesburg. Prior to that she was the Director of Monitoring and Evaluation of the Council on Higher Education (CHE) in Pretoria.
NTOKOZO THABO BHENGU is a Researcher and Stakeholder Liaison Officer for the Council on Higher Education (CHE).