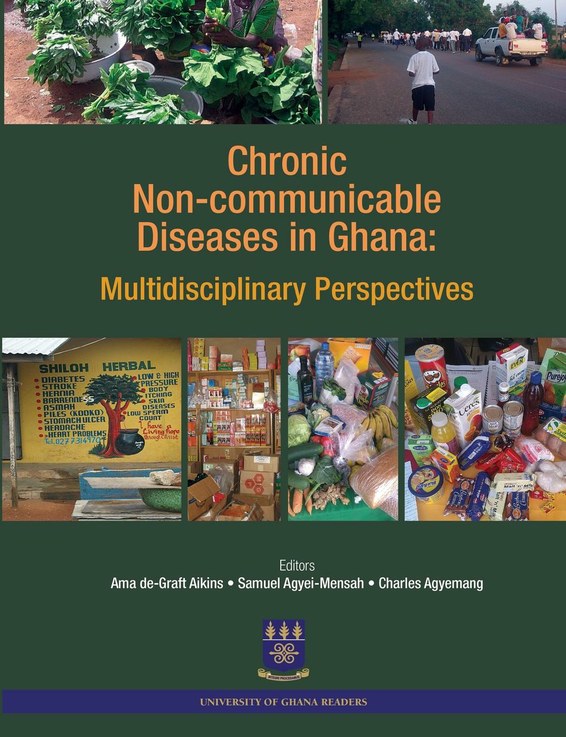 | | |
| --- | --- |
| ISBN | 9789988647278 |
| Pages | 174 |
| Dimensions | 246 x 189mm |
| Published | 2014 |
| Publisher | Sub-Saharan Publishers, Ghana |
| Format | Paperback |
Chronic Non-communicable Diseases in Ghana
Multidisciplinary Perspectives
Chronic non-communicable diseases (NCDs) such as hypertension, stroke, diabetes and cancers, are major causes of disability and death in Ghana. NCDs are not only public health problems. They are also developmental problems, because the rising prevalence of long-term chronic conditions has major social and financial implications for affected individuals, families, healthcare providers and the government. This University of Ghana Readers volume from the Regional Institute for Population Studies presents social and medical science research on Ghana's NCD burden. The body of multidisciplinary research spans the last fifty years and offers important insights on NCD prevalence and experience as well as cultural, health systems and policy responses. This volume will be an essential resource for researchers and students in the health sciences, healthcare providers, health policymakers, and lay individuals with an interest in Ghana's contemporary public health challenges.
About the Editors
Ama de-Graft Aikins is Professor of Social Psychology at the Regional Institute for Population Studies and Dean of International Programmes, University of Ghana.  Her research focuses on representations, experiences and care of chronic physical and mental illnesses, Africa's chronic non-communicable disease (NCD) burden, and the development of community-based chronic illness interventions.
Samuel Agyei-Mensah is professor of geography and Dean of the Faculty of Social Sciences, University of Ghana. His research focuses on medical and population geography with particular reference to the health implications of the epidemiological and fertility transitions in Ghana.
Charles Agyemang is a senior researcher and principal investigator at the Amsterdam Medical Centre, University of Amsterdam. He is a public health epidemiologist and has lead research on hypertension, obesity and risk factors of chronic non-communicable diseases among Ghanaians, Ghanaian migrants in Europe and other African populations.