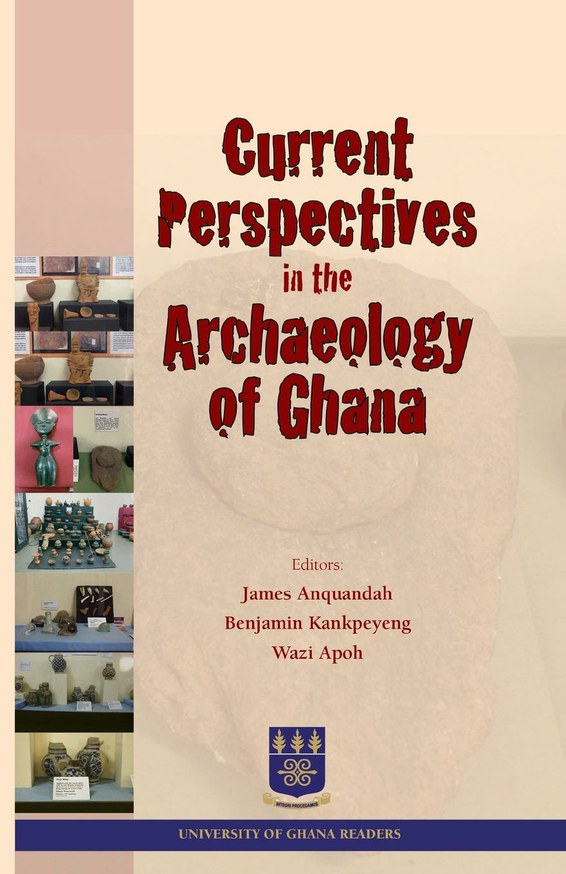 | | |
| --- | --- |
| ISBN | 9789988860233 |
| Pages | 354 |
| Dimensions | 216 x 140mm |
| Illustrations | Colour Illustrations and Colour Photographs |
| Published | 2014 |
| Publisher | Sub-Saharan Publishers, Ghana |
| Format | Paperback |
Current Perspectives in the Archaeology of Ghana
This collection of essays on archaeology and heritage studies is authored by local and expatriate scholars who are either past or current practitioners in archaeological work in Ghana. They are from Ghana, UK, US and Canada. The subject matter covered includes the history and evolution of the discipline in Ghana; the method and theory or 'how to do it' in archaeology, field research reports, and syntheses on findings from past and recent investigations. The eclectic or multidisciplinary strategy has been the research vogue in Ghanaian archaeology recently, and this is reflected in the various chapters. The essays engage with current theoretical trends in global archaeology and also focus on the role and status of archaeology as a discipline in Ghanaian society today. Archaeology is a relatively 'novel' subject to many in Ghana. This Reader will, therefore, be a huge asset to local students and experts alike. Foreign scholars will also find it very useful.
About the Editors
James Kwesi Anquandah is the Chairman of the Research Unit of the National Slave Route Project of the Ministry of Tourism and Diasporan Relations; and Professor of Archaeology at the University of Ghana, Legon.
Wazi Apoh is an archaeological anthropologist and a Frederick Douglass Teaching Scholar. He has a B.A and M.Phil degrees in archaeology from the University of Ghana and a Phd degree in Anthropology from Binghamton University of New York, USA. His specialty is in the fields of cultural heritage management, contract/salvage archaeology, forensic anthropology and development anthropology. He is currently a lecturer in the Department of Archaeology and Heritage Studies, University of Ghana. He is the director of the Kpando German Heritage Research and Rehabilitation Project. He is the author of "Concise Anthropology: the Five-Field Approach" 2010, Kendall Hunt Publishers and a co-editor of "Germany and Its West African Colonies: "Excavations" of German Colonialism in Post-Colonial times." 2013, Lit Verlag, Germany.
Benjamin W. Kankpeyeng is an Associate Professor and the current Head of the Department of Archaeology and Heritage Studies, University of Ghana. He studied at Syracuse University in the United States of America where he obtained an MA and PhD in Anthropology in 1996 and 2003, respectively. He also holds a BA (Honours) degree in History with Philosophy from the University of Ghana awarded in 1981. He worked at the Ghana Museums and Monuments Board from 1983 until joining the Faculty at the University of Ghana in 2004. His research interests include culture contact studies, archaeology of rituals and religions, public archaeology, and heritage studies. His archaeological research projects are linked with the sites of Kpaliworgu, Tongo- Tengzug (with Timothy Insoll and Rachel MacLean), Koma Land, and slavery.