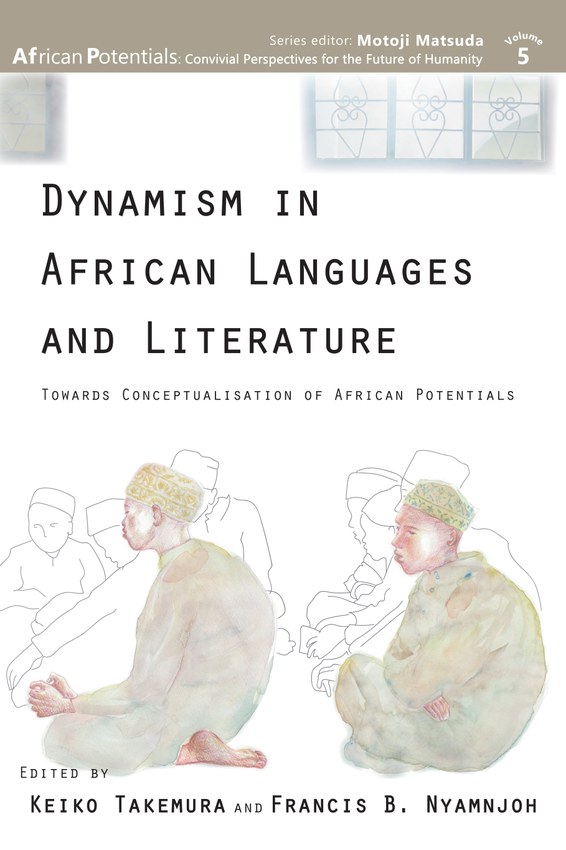 | | |
| --- | --- |
| ISBN | 9789956551699 |
| Pages | 326 |
| Dimensions | 229 x 152mm |
| Published | 2021 |
| Publisher | Langaa RPCIG, Cameroon |
| Format | Paperback |
Dynamism in African Languages and Literature
Towards Conceptualisation of African Potentials
The book provides novel perspectives towards conceptualisation of African Potentials. It explores diverse and dynamic aspects of linguistic communications in Africa, ranging from convivial multilingual practices to literal and musical arts. The book reflects the diversity and ever-changing dynamism in the African sociolinguistic sphere, that is, metalinguistic discourse in East Africa, sociolinguistic dynamism in Angola, conflict reconciliation speech performed in Ethiopia, and syncretic urban linguistic code called Sheng in Kenya. The volume also explores multi-dimensional relationships between literary arts and the society by investigating such topics as traditional Swahili poetry, publication of children books in Benin, and transformation and reconstruction of Yoruba popular music. The book elucidates dynamic process of creation through mixing of traditional and foreign elements of culture
Reviews
"This volume challenges current worldviews on humanity, language, society and history. 'African Potentials' are open, dynamic, not fixed or static. They are founded on pluralism, tolerance and openness – not imposed unity. One reiterated theme of the book's chapters is that some of the world's problems and conflicts can be resolved using African experiences and values. A valuable contribution to the argumentation for the potentiality of Africa's linguistic and cultural dynamism by respected African and Japanese scholars."
Chege Githiora Emeritus Professor, SOAS, University of London, UK
"Africa had long been deprived of her voice and pen, the tools needed to articulate her dreams and hopes, to define her total experiences. But during the last century Africa managed to recover her initiative and began to talk in her own voice and write with her own pen. Now, we know that 21st century Africa has begun to liberate herself, where the potentials of her languages and literatures are enabling a new portrait of Africans to emerge."
Masaoki Miyamoto Emeritus Professor, Osaka University of Foreign Studies, Japan
"This volume is a collection that has been innovatively and interestingly written to combine a variety of topics from and on different parts of Africa, focusing on the culture, inbuilt in Africa's rich linguistic heritage. Drawing on lived accounts from scholars from different parts of Africa and Japan, the collection makes an inviting choice to exciting topics, ranging from Africa's multilingualism, literary creativity, and the use of the Africa's languages in dealing with the continent's diverse phenomena.  Simply put, this is a superb collection! "
Gastor Mapunda Professor, University of Dar es Salaam, Tanzania
"My warmest greetings to all who have contributed to this work which I am sure will be a major contribution to African studies. It will help to take a fresh look at understanding Africa by lifting the veil on topical issues and challenges. Studies on Africa still have interesting prospects to exploit fruitfully."
Mamadou CISSÉ Professeur et Enseignant-Chercheur, Faculté des Lettres et Sciences Humaines, Université Cheikh Anta Diop, Dakar, Sénégal
About the Editors
Keiko Takemura is Professor at the Graduate School of Language and Culture, Osaka University, Japan.
Francis B. Nyamnjoh joined the University of Cape Town in August 2009 as Professor of Social Anthropology from the Council for the Development of Social Science Research in Africa (CODESRIA), Dakar, Senegal, where he served as Head of Publications from July 2003 to July 2009. He has taught sociology, anthropology and communication studies at universities in Cameroon and Botswana, and has researched and written extensively on Cameroon and Botswana. In October 2012 he received a University of Cape Town Excellence Award for "Exceptional Contribution as a Professor in the Faculty of Humanities". He is recipient of the "ASU African Hero 2013" annual award by the African Students Union, Ohio University, USA. He is: a B1 rated Professor and Researcher by the South African National Research Foundation (NRF); a Fellow of the Cameroon Academy of Science since August 2011; a fellow of the African Academy of Science since December 2014; a fellow of the Academy of Science of South Africa since 2016; and Chair of the Editorial Board of the South African Human Sciences Research Council (HSRC) Press since January 2011. His scholarly books include: Africa's Media, Democracy and the Politics of Belonging (2005); Insiders and Outsiders: Citizenship and Xenophobia in Contemporary Southern Africa (2006); "C'est l'homme qui fait l'homme": Cul-de-Sac Ubuntu-ism in Côte d'Ivoire (2015); and #RhodesMustFall: Nibbling at Resilient Colonialism in South Africa (2016).