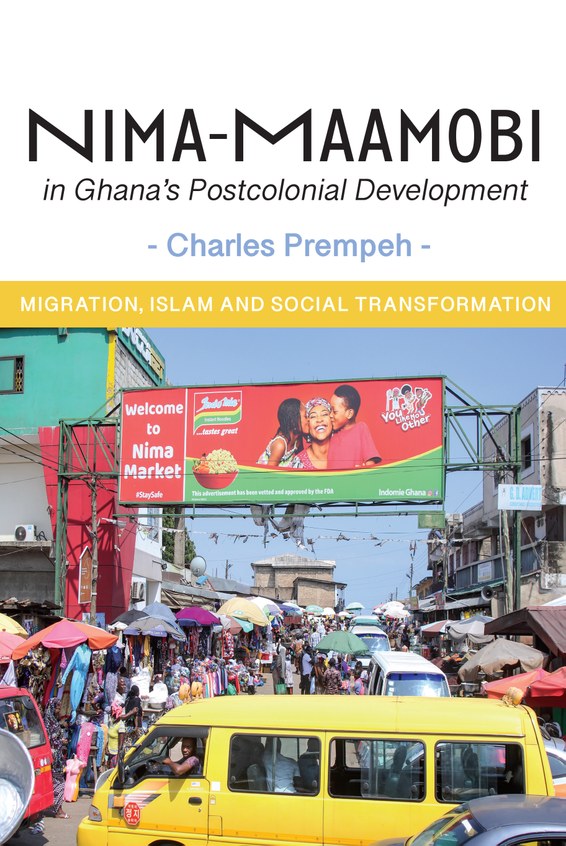 | | |
| --- | --- |
| ISBN | 9789956552566 |
| Pages | 282 |
| Dimensions | 229 x 152mm |
| Illustrations | Colour Photographs |
| Published | 2022 |
| Publisher | Langaa RPCIG, Cameroon |
| Format | Paperback |
Nima-Maamobi in Ghana's Postcolonial Development
Migration, Islam and Social Transformation
This book provides a deep insight into the socio-economic reality and complexity of two of Ghana's largest slums - Nima and Maamobi - located in the capital city, Accra. It identifies and analyses the socio-religious, cultural and political contexts of the two communities. These are ethnically and religiously diverse populations with a common history of migration and integration. The book shows that the causes of economic stagnation and underdevelopment in the two slums are deeply contextualised, complex and nuanced. Through a biographical examination of the political activism of Agnes Amoah, a foremost local leader, the book brings to bear how Mrs. Amoah also brought socio-economic transformation to the communities by breaking cultural, religious and gender barriers in the interest of conviviality. In context, the book sheds important insight on the urban, political and the local and translocal histories that have shaped the social transformations of Nima and Maamobi.
Reviews
"Grounding his arguments in theory and practice, Prempeh navigates the contours of daily living in 'a city within the city.' A tapestry of scholarship and originality, this book offers a rare opportunity to the reader to peep into the life of the 'taken-for-granted.' With Agnes Amoah as the cog in the wheel, Prempeh traverses the trilogy of migration, Islam and social transformation all of which he berths with sociological imagination."
Dr Timothy Quashigah, Senior Lecturer, Ghana Institute of Journalism, Ghana
"This is an excellent book! It provides a deep understanding of African migrant communities within the context of Islamic culture, slums, urban life and social change, and the significant role of local politics and activism in addressing the developmental challenges faced by such communities."
Dr. Edmond Akwasi Agyeman, Senior Lecturer in African Studies, University of Education, Winneba, Ghana