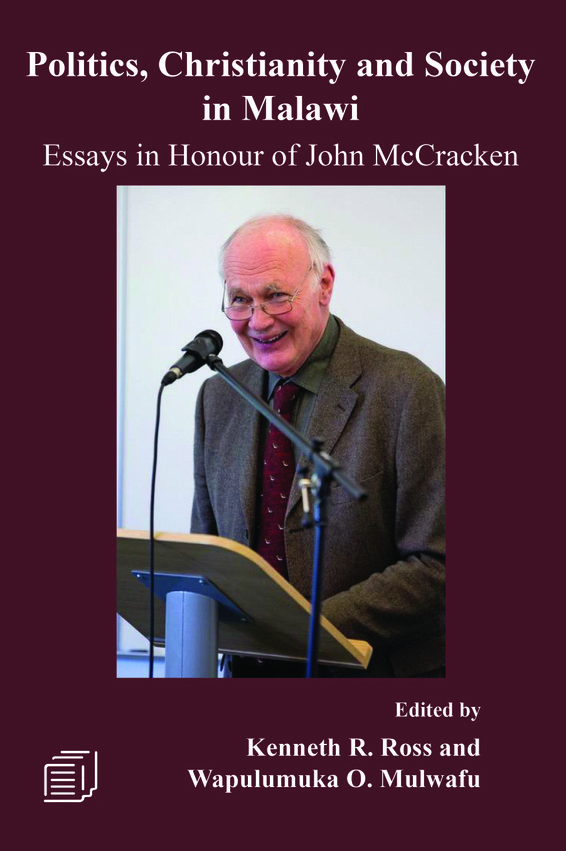 | | |
| --- | --- |
| ISBN | 9789996060786 |
| Pages | 532 |
| Dimensions | 229 x 152mm |
| Published | 2020 |
| Publisher | Mzuni Press, Malawi |
| Format | Paperback |
Politics, Christianity and Society in Malawi
Essays in Honour of John McCracken
With the death of John McCracken in 2017, Malawi lost a pre-eminent historian. This book celebrates McCracken's contribution to the study of Malawi's history and seeks to build on his legacy. Part of his genius was that he identified themes that hold the key to understanding the history of Malawi in its broader perspective. The authors contributing to this volume address these themes, assessing the progress of historiography and setting an agenda for the further advance of historical studies. The book is a valuable resource for students, researchers and all who are interested in gaining a deeper understanding of Malawi's past and present.
Reviews
"This important volume reminds us of John McCracken's major contribution to, and influence on, Malawian historiography since the 1970s. The editors must be commended for ensuring that the authors of the essays are both locally and internationally based but equally significant is their inclusion of the latest generation of Malawian scholars, which would have pleased John immensely. In addition, their impressive work gives direction to guide and inspire future scholarship in Malawi."
Dr Owen J. Kalinga, Professor of History, North Carolina State University, USA
"This collection is a fitting tribute to John McCracken. Its contributions reflect and expand on his scholarly legacy in the economic, social and political histories of Malawi while reflecting his deep commitment to and affection for the land and its people.  McCracken would have been much moved in heart and mind by this project."
Dr Joey Power, Professor of History, Ryerson University, Toronto, Canada
About the Editors
Kenneth R. Ross is Professor of Theology at Zomba Theological College, Malawi, and Associate Minister of Bemvu Parish, CCAP. Earlier he has served as Professor of Theology at the University of Malawi, General Secretary of the Church of Scotland Board of World Mission and Chair of the Scotland Malawi Partnership.
Wapulumuka O. Mulwafu is Professor of Environmental History and Dean of Postgraduate Studies at Chancellor College, University of Malawi.