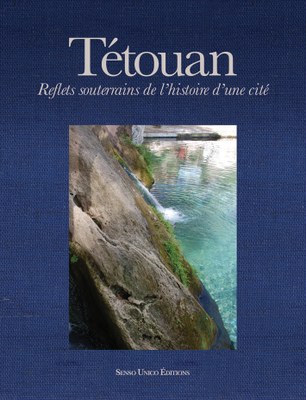 | | |
| --- | --- |
| ISBN | 9789954494073 |
| Pages | 176 |
| Dimensions | 320mm x 245mm |
| Illustrations | Colour Illustrations and Colour Photographs |
| Published | 2009 |
| Publisher | Senso Unico Editions, Morocco |
| Format | Hardback |
Tetouan
Reflets souterrains de líhistoire díune cite
Après un aperçu historique depuis les traces de l'antique Tamuda (IIIe siècle avant J.-C.), cet ouvrage collectif présente l'un des aspects les moins connus de Tétouan, son patrimoine souterrain. Le scoundo, réseau de canalisation souterrain vieux de plusieurs siècles est doté de tuyaux en céramique qui s'enchevêtrent sous la médina pour porter l'eau aux fontaines, aux mosquées, aux hammams et aux demeures privées. Le ventre de Tétouan recèle aussi un énorme labyrinthe souterrain, les mazmorras, où étaient enfermés les Chrétiens capturés par les corsaires marocains entre le XVIe et le XVIIe siècle.
Dans la ville, Musulmans, Juifs et Chrétiens se côtoient depuis des siècles. Leurs cimetières respectifs sont situés l'un à proximité de l'autre, en témoignage de cette longue tradition de tolérance.
L'iconographie présente des images inédites du scoundo, ainsi que des bassins, des mosquées, des medersas et des demeures qui sont reliés à ce réseau unique. Pour la première fois, les mazmorras, inaccessibles au public ont été aussi photographiées.
A brief account of the history of Tetouan, from the ancient site of Tamuda in 3rd century BC to the present day, introduces the main subjects of the book: the Scoundo, the Mazmorras and the cemeteries of the three religions of the Book. The Scoundo is an underground water main dating back to the 16th century and made up of ceramic pipes which run under the medina carrying water to fountains, mosques, hammams and private houses. The bowels of Tetouan medina also contain a huge labyrinth, the Mazmorras, in which Christians captured by Moroccan corsairs between the 16th and the 17th century were kept prisoners.  In the city, Muslims, Jews and Christians have been living side by side for centuries and their cemeteries, one next to the other, clearly show this long lasting tradition of tolerance. The iconography shows totally new photos of Tetouan historical monuments; of the Scoundo, including some of the fountains, mosques, medersas and houses connected to this unique water main; and of the Mazmorras, forbidden to the public and which have been photographed for the first time.