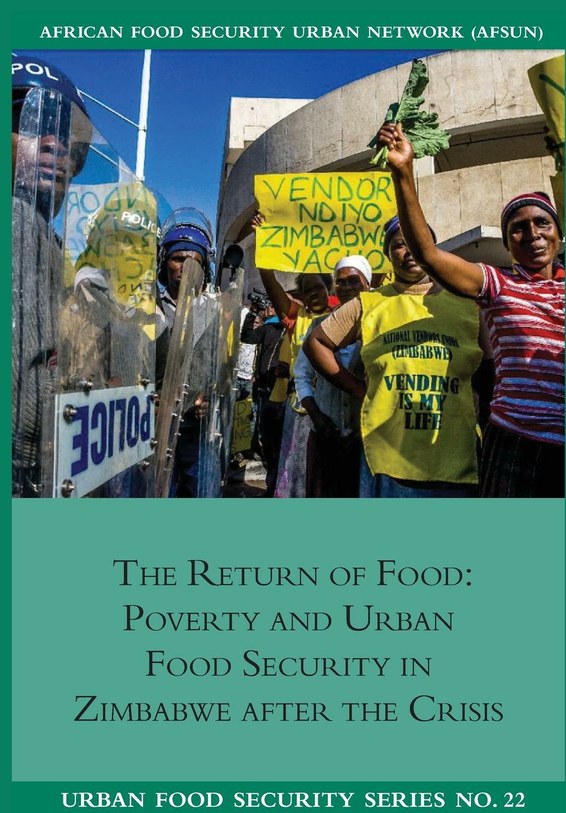 The Return of Food
Poverty and Urban Food Security in Zimbabwe after the Crisis
The nadir of Zimbabwe's political and economic crisis in 2008 coincided with the implementation of a baseline household food security survey in Harare by AFSUN. This survey found that households in low income urban areas in Zimbabwe's capital were far worse off in terms of all the food insecurity and poverty indicators than households in the other 10 Southern African cities surveyed by AFSUN. The central question addressed in this report is whether food security in Zimbabwe's urban centres has improved. AFSUN conducted a follow-up survey in 2012 that allows for direct longitudinal comparisons of continuity and change. The status of household food security in low-income neighbourhoods in Harare was improved in 2012 relative to 2008, and yet persistently high rates of severe food insecurity demonstrate that the daily need to access adequate food continued to be a major challenge.
'The key lesson for policymakers is that even in the context of overall economic improvement, food insecurity remains endemic among the poorest segments of the urban population. Households are already accustomed to drawing on resources outside of the formal economy and improvements in employment income have not reversed that trend. These alternative livelihood strategies should therefore be considered as a normal part of urban life and supported with state resources that can improve access to food for the most marginalized groups.
About the Editors
Godfrey Tawodzera is a Senior Lecturer, Department of Geography and Environmental Sciences, University of Limpopo, Polokwane, South Africa.
Jonathan Crush is a Professor and CIGI Chair in Global Migration and Development at the Balsillie School of International Affairs, Waterloo, Canada, and an Honorary Professor at the University of Cape Town.

Liam Riley is an SSHRC Post-Doctoral Fellow at the Balsillie School of International Affairs, Waterloo, Canada.