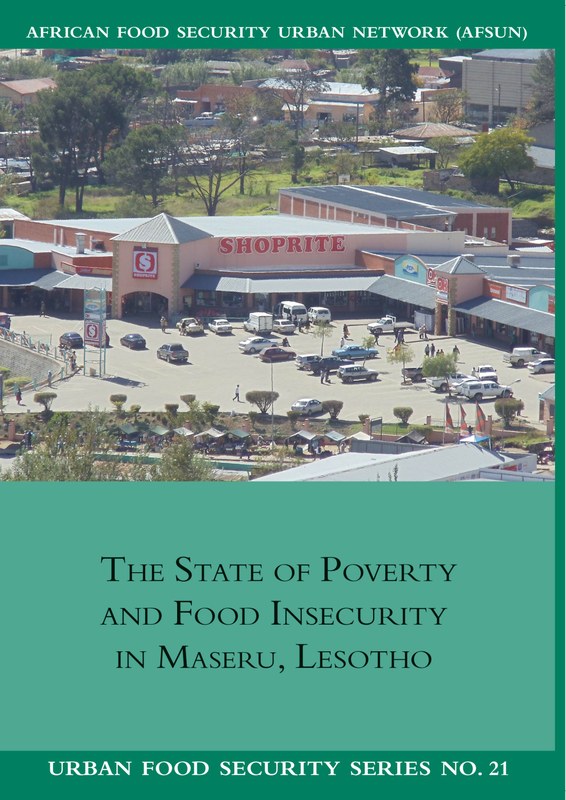 The State of Poverty and Food Insecurity in Maseru, Lesotho
This report on food insecurity in urban Lesotho is the latest in a series on Southern African cities issued by AFSUN. Like the previous reports, it focuses on one city (Maseru) and on poor neighbourhoods and households in that city. More than 60% of poor households surveyed in Maseru were severely food insecure. While food price increases worsen food insecurity for poor households, it is poverty that weakens the resilience of society to absorb these increases. This report argues that Maseru residents face specific and interrelated challenges with respect to food and nutrition insecurity. These are poverty; limited local livelihood opportunities; and dependence on food imports. Among AFSUN's recommendations are improved infrastructure as a fundamental pre-condition for meaningful development; the creation of livelihood opportunities within the food system; social safety nets designed in ways that promote economic growth and equity; and free movement of labour between Lesotho and South Africa, which would dramatically improve the incomes of many poor households. The Government of Lesotho and the Maseru Municipality and District can direct both aid and investment into an integrated food security strategy that prioritizes urban infrastructure, livelihoods, welfare and mobility. This takes political will, but the development and implementation of such a food security strategy is well within the reach of the country's leaders.
About the Editor
Jonathan Crush is a Professor and CIGI Chair in Global Migration and Development at the Balsillie School of International Affairs, Waterloo, Canada, and an Honorary Professor at the University of Cape Town.