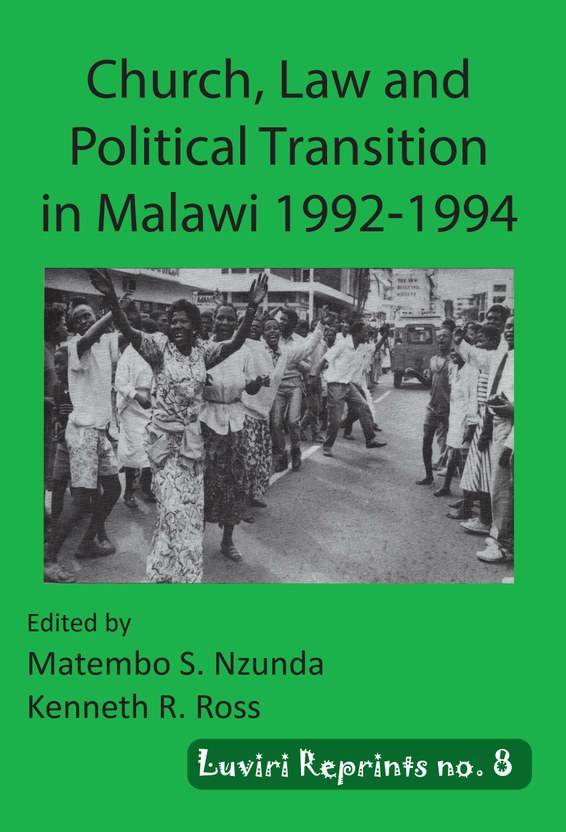 | | |
| --- | --- |
| ISBN | 9789996066542 |
| Pages | 188 |
| Dimensions | 210 x 148 mm |
| Published | 2020 |
| Publisher | Luviri Press, Malawi |
| Format | Paperback |
Church, Law and Political Transition in Malawi 1992-1994
The year 2020 began in Malawi with a moment of high political drama. On 3 February, the Constitutional Court declared the Presidential election of May 2019 "invalid, null and void". Its judgement laid bare the extent of the irregularities that marred the conduct of the election and vindicated the widespread popular view that its result was not valid. The Court's requirement that the election be re-run ignited a flurry of political and parliamentary activity, suggesting that the country might be on the cusp of significant change. It remains to be seen what the eventual outcome will be. Meanwhile there may be value in looking back to an earlier time of dramatic political transition – when Malawi shook off the shackles of one-party government and embraced multi-party democracy in 1992-94. In that process too, the courts played an active role, though it was from the witness of the churches that the initial impetus came. In this book theologians and lawyers join forces with other scholars to offer a comprehensive analysis of a turning-point in Malawi's political history. This reprint is offered in the hope that lessons learned from the past can help to shape the future as Malawians arrive once again at a decisive moment.
About the Editors
Matembo S. Nzunda, who died in 2000, was a prominent lawyer, academic, politician, Member of Parliament and Cabinet Minister. At the time this book was being prepared he was Senior Lecturer in Law at Chancellor College, University of Malawi. He published extensively on various aspects of the law, including company law, conflict of laws and environmental laws. He also practised law in Malawi and, notably, defended Chakufwa Chihana at his sedition trial in 1992. He stood for the AFORD party in the first multi-party election in 1994 and was elected MP for Chitipa North. He later served as Minister of Research and Environmental Affairs in the Malawi Government.
Kenneth R. Ross is Professor of Theology at Zomba Theological College, Malawi, and Associate Minister of Bemvu Parish, CCAP. Earlier he has served as Professor of Theology at the University of Malawi, General Secretary of the Church of Scotland Board of World Mission and Chair of the Scotland Malawi Partnership.