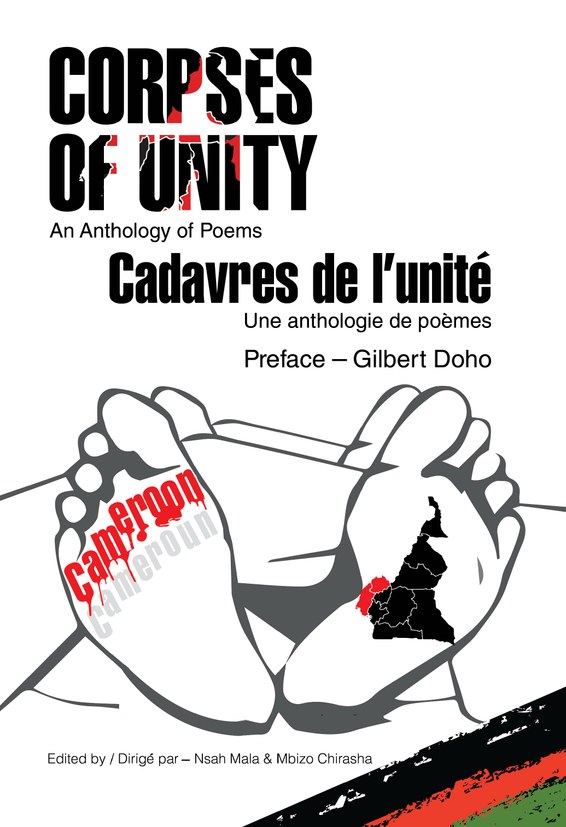 | | |
| --- | --- |
| ISBN | 9789966133991 |
| Pages | 108 |
| Dimensions | 254 x 178mm |
| Published | 2020 |
| Publisher | Vita Books, Kenya |
| Format | Paperback |
Corpses of Unity
An Anthology of Poems
Cameroon is no longer a peace-haven in Central Africa. This bilingual poetry anthology is a literary response to the avoidable but worsening and under-reported fratricidal war in Anglophone Cameroon. Written in English and French, the anthology brings together thirty-three poets from thirteen countries in Africa and beyond. The poets are concerned with the blood baths, burnings and other crimes committed in Anglophone Cameroon in the name of unity or division. Their poems paint raw images of the cruel killings of old people, pregnant women and children like those of #NgarbuhMassacre. They excavate the hidden mass graves and unveil the countless villages reduced to ashes and rubble. They recall the burning of animals and food and the brutal killing of nurses, patients and teachers. Their stanzas meander along with refugees in forests into Nigeria, into the jungles of Mexico en route to the US, and elsewhere. It is poetry speaking for human life and dignity, for peace and education, for inclusive dialogue, for reconciliation. It is poetry which should ruffle the consciences of those doing business in war, those pulling strings behind curtains, those who see oil before humans, those who trigger guns at their own brothers, sisters and parents, those who give orders to kill—in short, those who enjoy warfare as they profit from the spoils of war. This anthology seeks to raise global awareness on this forgotten war as a way of contributing to justice, healing, and peace in Cameroon.
About the Editors
Nsah Mala is a poet and writer from Mbesa, Cameroon. He writes in Iteanghe-a-Mbesa, English, and French. He has published five poetry collections: Chaining Freedom, Bites of Insanity, If You Must Fall Bush, CONSTIMOCRAZY: Malafricanising Democracy, and Les Pleurs du mal (French). In 2016, he won the Ministry of Arts and Culture Short Story Prize in Cameroon and le Prix Littéraire Malraux in France in 2017. As a writer for children, his published picture books include: Andolo - the Talented Albino (English), Andolo - l'albinos talentueux (French), and Le petit Gabriel commence à lire (French). He translated the picture book Be a Coronavirus Fighter (Yeehoo Press) into French as Un Combattant du Coronavirus in March 2020. Nsah Mala's picture book, What the Moon Cooks, will be published in spring 2021 by POW! Kids Books (USA). 
Mbizo Chirasha is a recipient of PEN Deutschland Exiled Writer Grant (2017) Literary Arts Projects Curator, Writer in Residence, Blogs Publisher, Arts for Human Rights/Peace Activism Catalyst, Social Media Publicist and Internationally Anthologized Writer, 2017 African Partner of the International Human Rights Arts Festival Exiled in Africa Program in New York. 2017 Grantee of the EU- Horn of Africa Defend Human Rights Defenders Protection Fund. Resident Curator of 100 Thousand Poets for Peace-Zimbabwe, Originator of Zimbabwe We Want Poetry Movement. He has published a collection of poetry, Good Morning President, and co-created another one Whispering Woes of Ganges and Zembezi with Indian poet Sweta Vikram.