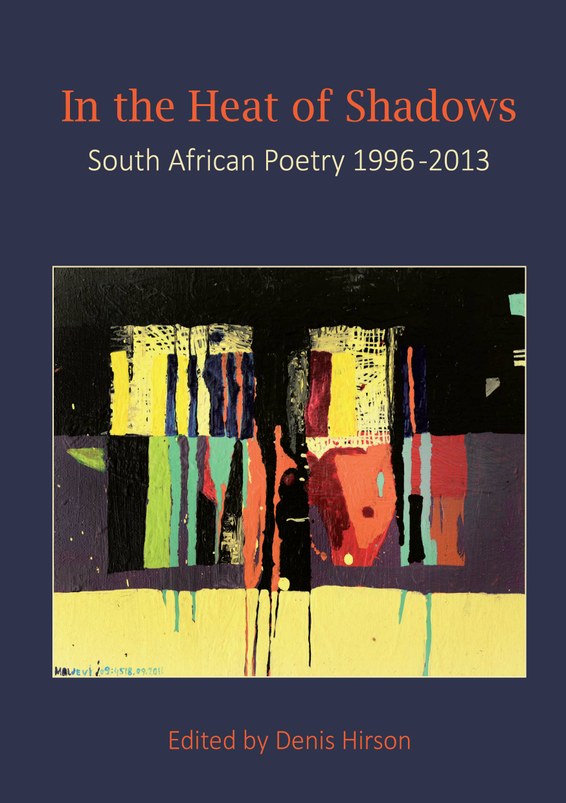 | | |
| --- | --- |
| ISBN | 9780987028235 |
| Pages | 280 |
| Dimensions | 210 x 148 mm |
| Published | 2014 |
| Publisher | Deep South, South Africa |
| Format | Paperback |
In the Heat of Shadows
South African Poetry 1996-2013
South African poetry today is charged with restlessness, burstng with diversity. Gone is the intense inward focus required to deal with a situation of systematic oppression, the enclosing effort of concentration on a single predicament. While politics and identity continue to be central themes, the poetry since the late 1990s reveals a richer investigation of ancestors and history, alongside more experimentation with language and translation; and enduring concern with the touchstones of love, loss, memory, and acts of witnessing.
In the Heat of Shadows: South African Poetry 1996-2013 presents work by 33 poets and includes some translations from Afrikaans, isiXhosa, isiZulu, Sesotho and Xitsonga. This collection follows on from Denis Hirson's 1997 anthology The Lava of this Land: South African Poetry 1960-1996.
About the Editor
Denis Hirson was born in 1951 in Cambridge, England, he lived till the age of 22 in Johannesburg where he studied Social Anthropology at the University of the Witwatersrand, later obtaining a doctorate in Creative Writing at the University of East Anglia. In 1975 he settled in France, where he lives near Paris. He has worked as an actor, does readings of South African poetry with an actress and saxophone player, and teaches English at the École Polytechnique. One of his seven books is a history of South African writing since the nineteenth century, another a volume of poetry. He has also produced three anthologies of South African poetry in French and an anthology in English covering the period 1960 - 1996.