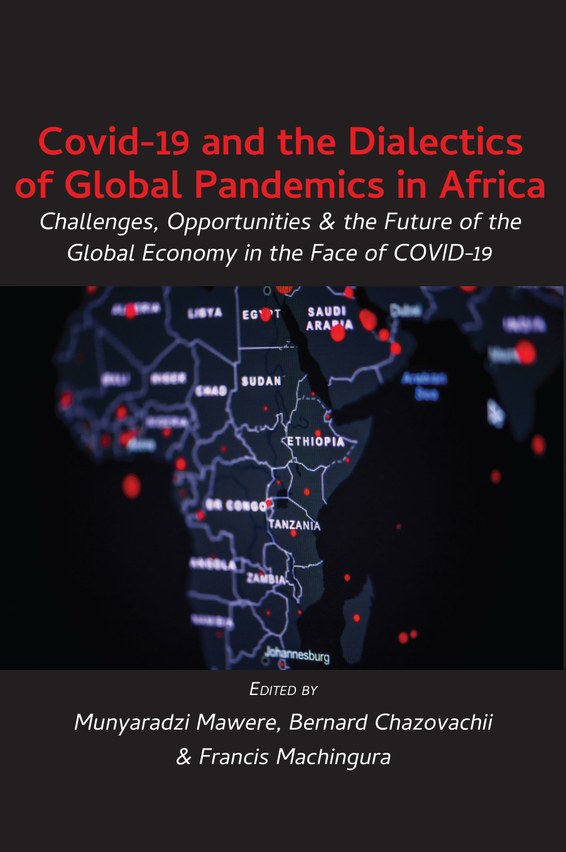 | | |
| --- | --- |
| ISBN | 9789956552023 |
| Pages | 334 |
| Dimensions | 229 x 152mm |
| Published | 2021 |
| Publisher | Langaa RPCIG, Cameroon |
| Format | Paperback |
Covid-19 and the Dialectics of Global Pandemics in Africa
Challenges, Opportunities and the Future of the Global Economy in the Face of COVID-19
The prevalence of global pandemics has been timeless and universal. In 1918, the Spanish Flue grounded Spain and her neighbours. In 1997, 2014 and 2020, the Ebola virus wreaked havoc in West Africa in the same manner that polio had ravaged the globe. Since 2019, the Coronavirus has forced most economies onto a downward spiral. Despite concerted global attempts at observing World Health Organization guidelines, the Coronavirus has been changing peoples' lives, forcing most economies onto their knees, endangering lives and livelihoods, making a mockery of global medicine and causing the widespread despair and helplessness that has come to be known as 'the new normal'. Unlike the other pandemics, the mayhem, complexities and dialectics caused by Covid-19 have been matchless, requiring a systematic study and necessitating a volume like this one. The volume's 16 well-researched chapters argue that despite Covid-19's enormous lessons and predictions about even greater future pandemics, humanity can ill-afford to relent in its determination to conquer the pandemic in the same way that human resolve has defeated past pandemic. As such, the volume provides hope and direction to the global community on how best to deal with Covid-19 and pandemics of similar or even higher magnitude in the future.
About the Editors
Munyaradzi Mawere is a Professor in the Simon Muzenda School of Arts, Culture and Heritage Studies at Great Zimbabwe University. He holds a PhD in Social Anthropology; a Master's Degree in Social Anthropology; a second Master's Degree in Philosophy; a third Master's Degree in Development Studies; BA (Hons) Degree in Philosophy; Certificate in Tertiary and Higher Learning; Certificate in Information Technology; and a Certificate in Diplomacy, Negotiation and Bargaining. He is an author of more than 50 books and over 200 academic publications straddling the following areas: poverty and development studies, African philosophy, cultural philosophy, democracy, politics of food production, humanitarianism and civil society organisations, urban anthropology, existential anthropology, environmental anthropology, society and politics, religion, decoloniality and African studies.
Bernard Chazovachii is an Associate Professor and Dean of the Julius Nyerere School of Social Sciences at Great Zimbabwe University.
Francis Machingura is an Associate Professor at the Arts and Languages Education Department, Faculty of Education, and Acting Director of Postgraduate Studies, at the University of Zimbabwe.