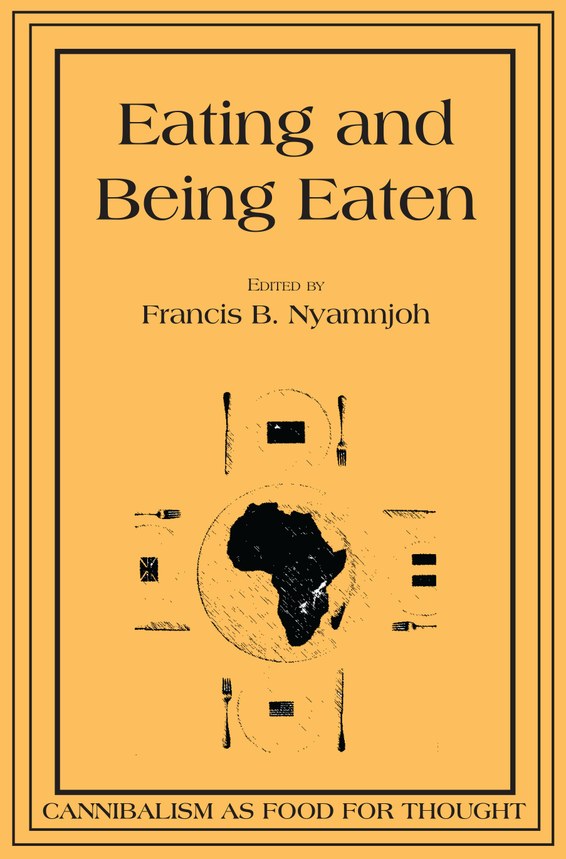 | | |
| --- | --- |
| ISBN | 9789956550968 |
| Pages | 358 |
| Dimensions | 229 x 152mm |
| Published | 2018 |
| Publisher | Langaa RPCIG, Cameroon |
| Format | Paperback |
Eating and Being Eaten
Cannibalism as Food for Thought
This innovative book is an open invitation to a rich and copious meal of imagination, senses and desires. It argues that cannibalism is practised by all and sundry. In love or in hate, fear or fascination, purposefulness or indifference, individuals, cultures and societies are actively cannibalising and being cannibalised. The underlying message of: 'Own up to your own cannibalism!' is convincingly argued and richly substantiated.
The book brilliantly and controversially puts cannibalism at the heart of the self-assured biomedicine, globalising consumerism and voyeuristic social media. It unveils a vast number of prejudices, blind spots and shameful othering. It calls on the reader to consider a morality and an ethics that are carefully negotiated with required sensibility and sensitivity to the fact that no one and no people have the monopoly of cannibalisation and of creative improvisation in the game of cannibalism. The productive, transformative and (re)inventive understanding of cannibalism argued in the book should bring to the fore one of the most vital aspects of what it means to be human in a dynamic world of myriad interconnections and enchantments. To nourish and cherish such a productive form of cannibalism requires not only a compassionate generosity to let in and accommodate the stranger knocking at the door, but also, and more importantly, a deliberate effort to reach in, identify, contemplate, understand, embrace and become intimate with the stranger within us, individuals and societies alike.
About the Editor
Francis B. Nyamnjoh joined the University of Cape Town in August 2009 as Professor of Social Anthropology from the Council for the Development of Social Science Research in Africa (CODESRIA), Dakar, Senegal, where he served as Head of Publications from July 2003 to July 2009. He has taught sociology, anthropology and communication studies at universities in Cameroon and Botswana, and has researched and written extensively on Cameroon and Botswana. In October 2012 he received a University of Cape Town Excellence Award for "Exceptional Contribution as a Professor in the Faculty of Humanities". He is recipient of the "ASU African Hero 2013" annual award by the African Students Union, Ohio University, USA. He is: a B1 rated Professor and Researcher by the South African National Research Foundation (NRF); a Fellow of the Cameroon Academy of Science since August 2011; a fellow of the African Academy of Science since December 2014; a fellow of the Academy of Science of South Africa since 2016; and Chair of the Editorial Board of the South African Human Sciences Research Council (HSRC) Press since January 2011. His scholarly books include: Africa's Media, Democracy and the Politics of Belonging (2005); Insiders and Outsiders: Citizenship and Xenophobia in Contemporary Southern Africa (2006); "C'est l'homme qui fait l'homme": Cul-de-Sac Ubuntu-ism in Côte d'Ivoire (2015); and #RhodesMustFall: Nibbling at Resilient Colonialism in South Africa (2016).