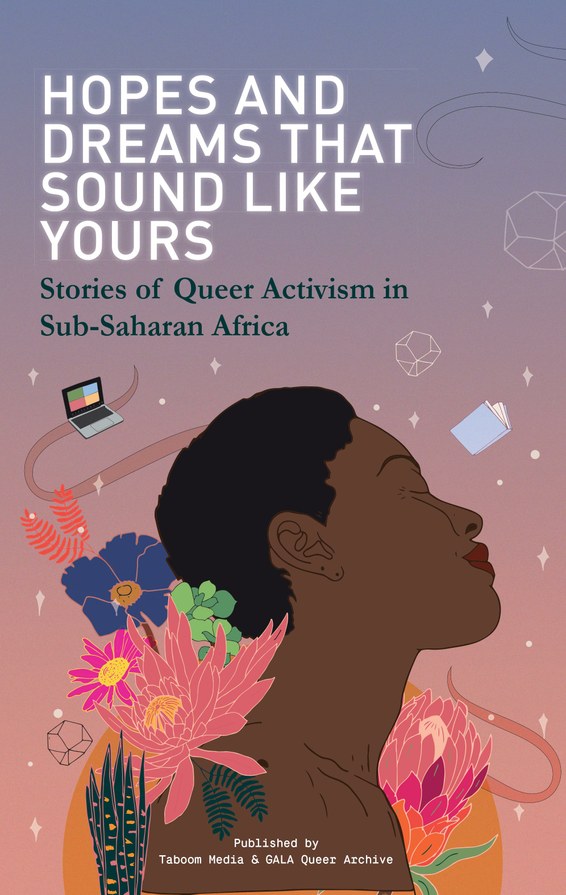 | | |
| --- | --- |
| ISBN | 9780620935340 |
| Pages | 98 |
| Dimensions | 260 x 168mm |
| Illustrations | Colour Illustrations |
| Published | 2021 |
| Publisher | MaThoko's Books, South Africa |
| Format | Paperback |
Hopes and Dreams That Sound Like Yours
Stories of Queer Activism in Sub-Saharan Africa
In Hopes and Dreams, 20 human rights defenders from Sub-Saharan Africa share their activist journeys and reveal what inspires their fight for LGBTIQ equality. Some are deeply personal stories of self-discovery and acceptance. Others chart the challenges LGBTIQ rights groups face in discriminatory environments. All carry messages of hope and dreams for a better tomorrow.
Queer and ally artists bring each story to life with original illustrations that depict the joys and struggles of our collective movement. The result is a beautiful archive and powerful anthology of resilience.
More than 40 people contributed to Hopes and Dreams and its accompanying videos over three short months. The project emerged from a Media Advocacy for LGBTIQ Equality workshop Taboom Media hosted in January with activists from Angola, Botswana, the Democratic Republic of the Congo, Eswatini, Ghana, Kenya, Liberia, Malawi, Mauritius, Mozambique, Namibia, Nigeria, Rwanda, Sierra Leone, South Africa, Uganda, Zambia, and Zimbabwe.
Hopes and Dreams was made possible through the generous support from the Arcus Foundation, and the National Endowment for Democracy, with additional support from The Sigrid Rausing Trust and the Norwegian Students' and Academics' International Assistance Fund (SAIH).
Reviews
"We're sharing our hopes and dreams - hopes and dreams that sound like yours."
David Ochara, Just Knock and You Can Enter
"Instead of allowing history to retroactively explain who we are, let us write and build our own nuanced history by telling our individual and collective stories."

Karin Tan; Senior Information Officer, GALA Queer Archive
About the Editor
Taboom's media training, mentoring, publishing, monitoring, and response programs catalyze ethical journalism and public discourse around taboo topics. By shining light on taboos, we aim to break their power. Our global work challenges stigmas, replacing stereotypes and discrimination with accuracy and respect.