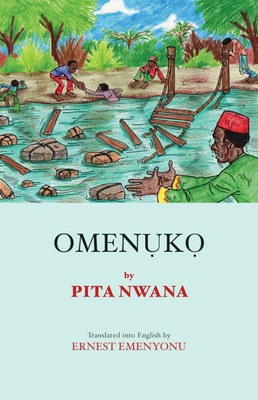 | | |
| --- | --- |
| ISBN | 9781940729176 |
| Pages | 96 |
| Dimensions | 216 x 140mm |
| Illustrations | B/W Illustrations |
| Published | 2014 |
| Publisher | African Heritage Press, Nigeria |
| Format | Paperback |
Omenuko
Omenụkọ (real name: Igwegbe Odum) whose home in Okigwe, Eastern Nigeria, was a popular spot for field trips by students in schools and colleges, as well as a favourite attraction for tourists in the decades before and after the Nigerian Independence in 1960. Generations of Igbo children began their reading in Igbo with Omenụkọ, and those who did not have the opportunity to go to school still read Omenụkọ in their homes or at adult education centers. Omenụkọ was a legendary figure and his 'sayings' became part of the Igbo speech repertoire that young adults were expected to acquire.
Omenụkọ, a classic in Igbo Literature, written by Pita Nwana and published in 1933 by Longman, Green & Co, Ltd, London, is in this translation made accessible to a global audience. Emenyonu utilizes his mastery of both languages (Igbo and English) to faithfully present to his audience a complete rendition of Omenụkọ as originally written. The timeless significance of this novel as a progenitor of the Igbo language novel is again underscored.
About the Editor
ERNEST N. EMENYONU is a professor of Africana Studies at the University of Michigan-Flint. A specialist in African Literature, he has taught African Literature in institutions of higher learning in Nigeria and the United States, and published extensively in the field. His other children's books include a series, Bedtime Stories For African Children. He has also published a collection of short stories, Tales of Our Motherland. He is the Editor of African Literature Today.