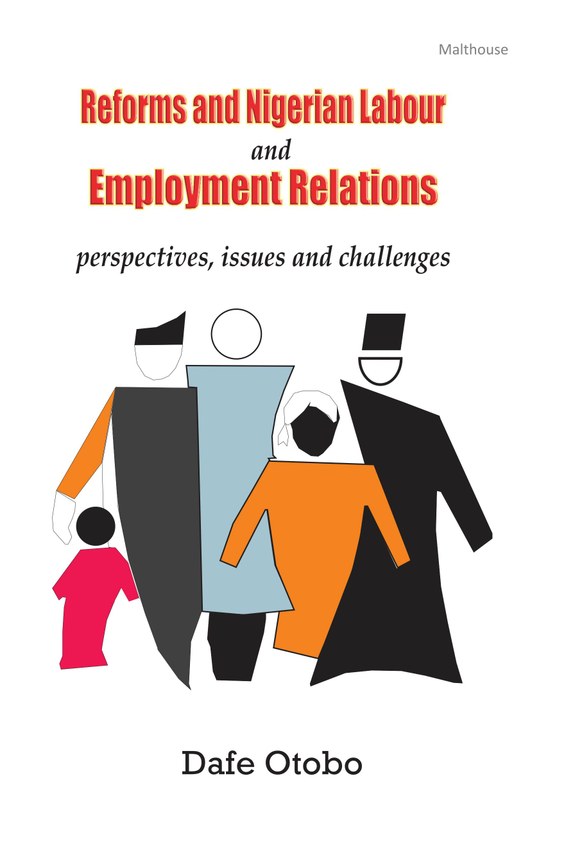 | | |
| --- | --- |
| ISBN | 9789789497119 |
| Pages | 498 |
| Dimensions | 244 x 170 mm |
| Published | 2016 |
| Publisher | Malthouse Press, Nigeria |
| Format | Paperback |
Reforms and Nigerian Labour and Employment Relations
Perspectives, Issues and Challenges
This collections of papers, from twenty-seven chapters is on aspects of reforms and labour and employment relations in Nigeria over the past three decades:
The Idea of Reform – Professor Dafe Otobo
Industrial and Labour Issues in Policy Formulation – Hon Justice (Dr) Ben E. Kanyip
Regulatory instruments and industrial relations in Nigeria –Professor Ifeanyi P. Onyeonoru
Measuring the Democratic Rights of Nigerian Workers by International Standards – Associate Professor O.V.C. Okenne
Contemporary Developments in Human Resource Management: Implications for Performance Enhancement and Service Delivery in Nigeria's Modern Sector – Professor Segun Matanmi
Bank sector recapitalisation: matters arising for labour and Nigerian society -  Dr Oluwatoyin Frederick Idowu
Pricing of Petroleum Products in Nigeria – Dr Peter I. Ozo-Eson
Economic reforms in Nigeria: an analysis of employment generation in telecommunication sector – Associate Professor Muhammed Muttaka Usman
Information communication technology, productivity of labour and the development of the Nigerian economy – Dr Chukwuemeka Ifegwu-Eke
Economic reforms, labour market institutions and poverty reduction in Nigeria – Associate Professor S.A. Abdulsalam
Response of organised labour to economic reforms in Nigeria – Professor Yusuf Noah
The trade union movement and the challenges of economic reforms in the emerging Nigerian economy – Associate Professor K.O. Kester, Associate Professor A.R. Bankole, Dr O.S. Samuel
Between rhetoric and action: the Nigerian working class and neo-liberal economic policies – Professor Funmi Adewumi
Host communities and businesses: implications for labour relations and human resource management – Professor Dafe  Otobo
On Unfair Labour Practices in the Oil and Gas Industry – NUPENG & Olawale Afolabi
Reforms, Industrial and Employment Relations in Nigeria: Perspectives, Issues and Challenges – Pengassan & Bayo Olowoshile
What about Industrial Relations? – Issa Aremu
Reforming Employment and Labour Relations in Nigeria – Dr Chris Obisi
Labour and Legal Challenges in Redundancy and some other Employment Practices in Nigeria – Professor Israel N.E. Worugji
Employment and Work Relations in University System in Nigeria – Professor Dafe Otobo
Human Resources Management in Nigerian Security Services – Professor Etannibi Alemika
Trade Unions and Industrial Relations Practice in the Health Sector – Baba Ayelabola
Feminist perspective of workers' rights and labour standards in Nigeria – Dr Asikia Ige (nee Karibi-Whyte)
Nigeria Social Insurance Trust Fund (NSITF) in perspective – Ibrahim Wakawa
Current issues and trends in effective arbitration – Hon Justice (Dr) Ben B. Kanyip
Overview of the Trade Disputes Act and its application to trade disputes settlement in Nigeria – Hon Justice (Dr) Ben B. Kanyip
Constitutionalization of the status of the National Industrial Court of Nigeria: a panacea for Industrial Harmony? – Professor Offornze Amucheazi

About the Editor
Professor Dafe Otobo, educated at the University of Ibadan, The London School of Economics & Political Science, and the University of Oxford, is of the Industrial Relations & Personnel Management Department, University of Lagos. He is also the President of the Nigerian Industrial & Employment Relations Association (NIERA). He is widely published.