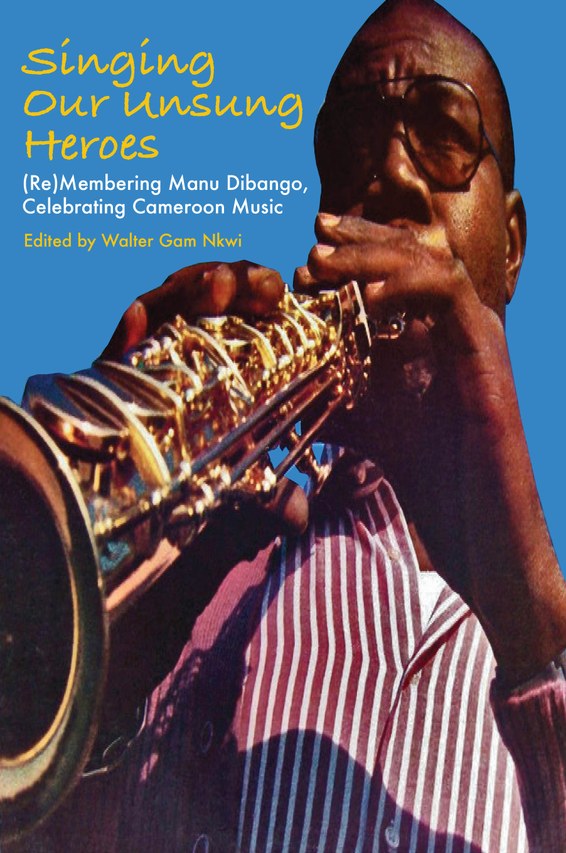 | | |
| --- | --- |
| ISBN | 9789956551095 |
| Pages | 256 |
| Dimensions | 229 x 152 mm |
| Published | 2021 |
| Publisher | Langaa RPCIG, Cameroon |
| Format | Paperback |
Singing Our Unsung Heroes
(Re)Membering Manu Dibango, Celebrating Cameroon Music
This book collates thematic reflections on Cameroon music exalting Manu Dibango, one of the first-generation Cameroonian musicians, who bowed to Covid-19 on 24 March 2020. Granted his enormous contribution to Cameroon, African and world music, one would have expected that scholarly books and encyclopaedia of recognition would be written in his honour prior to his demise. However, that was not the case. Like many other musicians in Cameroon, seemingly nothing substantial has been written about Manu Dibango and his music, with the exception, paradoxically, of his autobiography, Three Kilos of Coffee. What exists on this towering and humble giant of Cameroonian and African superstardom is scanty and mostly in the form of grey literature. We must learn to immortalise our artists and popular intellectuals beyond their entertainment value and the photo opportunities that we have with them in their lifetime. The inspiration for this book was drawn from the conviction that one of the best ways of honouring and valorising Manu Dibango would be by taking the cue from his music and then collecting essays generally on music, its role and impact in Cameroon, Africa and beyond.
Reviews
"Manu Dibango's sad death is a great loss to the world in general and to Cameroon in particular. As a prototype of an Afropolitan - a notion he helped to forge himself - he was for my Cameroonian friends a towering figure of hope showing that despite all adversity their country could produce such creative genius. This rich collection highlighting the vital role of music for society and as a counter-voice under a seemingly never-ending dictatorship as in Cameroon, is a tribute to his greatness."
Peter Geschiere, Emeritus Professor, Leiden University/University of Amsterdam
"Manu Dibango's 1983 Makossa Man album is a prize item in my vinyl LP collection. I heard his music during the 1990s in both the boîte de nuit circuit downhill from Yaounde's Le Capitol and a more urgent setting, alongside Petit-Pays' and Lapiro's, from insurrectionary Bamenda's boom boxes. I'm now thrilled to read this posthumous tribute to (as the book puts it) a major "Afropolitan...musician-philosopher," and grateful to this circle of University of Buea-inspired tribunes for a ground-breaking volume about Cameroon's and Africa's protest culture and politics writ large."
Milton Krieger, Emeritus Professor of Liberal Studies, Western Washington University, USA
"The death of Manu Dibango in 2020 was felt all over the world. Sadly, at the time of his passing, there was hardly any major study of his vast body of work in Cameroon and hence the necessity for this volume. But beyond this major event, the volume focuses on other significant issues; music and historical memory, music in the age of social media, music and female power and music and sociopolitical resistance. In this way, we will come to understand that music not only uplifts the spirits but also serves as an important spur and reminder when we need to re-build society from the bottom up."
Sanya Osha, Senior Research Fellow, HUMA, University of Cape Town, and author of Postethnophilosophy
About the Editor
Walter Gam Nkwi is an Associate Professor of History, University of Buea, Cameroon. His research interests include: Migration, Social History and relationship between Technology and Society.