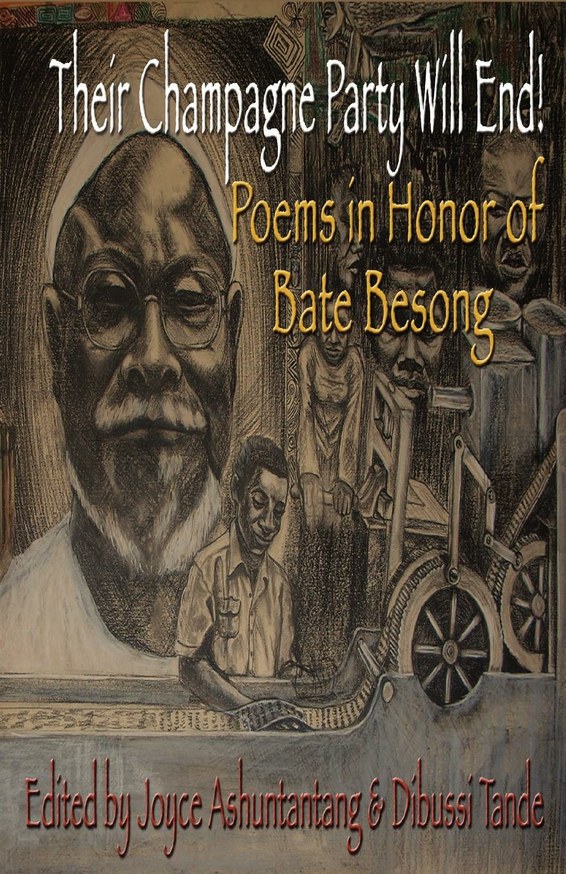 | | |
| --- | --- |
| ISBN | 9789956558193 |
| Pages | 76 |
| Dimensions | 216 x 140 mm |
| Published | 2008 |
| Publisher | Langaa RPCIG, Cameroon |
| Format | Paperback |
Their Champagne Party Will End!
Poems in Honor of Bate Besong
Bate Besong was Cameroon's most vocal and controversial poet, playwright and scholar, who died in March 2007. The poems in this collection are a tribute to the man and his work, and provide a snapshot of the mood that prevailed after his death. Bate Besong ushered in a new kind of nationalist "fighting" literature in Cameroon, unapologetic in its defense of Cameroon's Anglophone minority and scathing in its denunciation of postcolonial African dictators and their foreign collaborators. These poems defy Bate Besong's death by affirming that his impact as a writer lives on. 34 poems are included from 30 poets.
Reviews
"Moving and tellingly generous, these tributes attest to the value of Bate Besong as humanist, artist, and patriot; the 'Inextinguishable Flame' of his inspiration; the triumph of his life over the pain of his departure. Here is a resonant celebration not only of the brief but boisterously bright fire of one of our bravest writers, but also of the unbreakable chord of our common humanity. The refrains in these elegies are anthems of hope. The ink in their lines will for ever stay aglow."
Niyi Osundare
"These poems put into perspective the essence of that Anglophone Cameroon literary icon, the fearless "Obasinjom Warrior" with the bemused smile, who once upon a time, was called Bate Besong."
Ba'bila Mutia, Professor of Literature, ENS, University of Yaounde 1, Cameroon
About the Editors
Joyce Ashuntantang (Joyce Ash) is a poet, actress, interdisciplinary scholar and Associate Professor of English at the University of Hartford, Connecticut. A graduate of universities on three continents, Dr. Ashuntantang received a B.A in English with a minor in Theater Arts from the University of Yaoundé, Cameroon, a Master's in Library and Information Science from the University of Aberystwyth, UK, and a Ph.D. in English/African Literature from the City University of New York. She is the author of many scholarly and creative publications, which include Landscaping Postcoloniality: The Dissemination of Cameroon Anglophone Literature (2009) and three poetry collections, Their Champagne Party will End: Poems in Honor of Bate Besong, co-edited (2008), A Basket of Flaming Ashes (2010) and Beautiful Fire (2018). She has appeared as an invited poet in many countries around the world including England, Germany, Nicaragua, Greece, Costa Rica, Colombia, Bangladesh, Cameroon and USA. She has also contributed to several international anthologies of poetry highlighting the plight of  minority groups including, Peace for Afrin, Peace for Kurdistan (2019), Hiraeth-Erzolirzoli: A Wales - Cameroon Anthology (2018), Poems for the Hazara (2014), Reflections: An Anthology of New Work by African Women Poets (2013) and We Have Crossed Many Rivers: New Poetry from Africa (2012). Her poems have been translated into Spanish, Greek, Hebrew, Turkish, Bangla, Arabic and Romanian. Her Awards include Spirit of Detroit Award for Leadership (1987), Ministry of Culture, Cameroon, Award for Outstanding Performance in Theater (1989, 1994), Belle K. Ribicoff Prize for Excellence in Teaching and Scholarship (2012) and Kathrak-Bangladesh Literary Award (2018).
Dibussi Tande is a political scientist, writer and poet who lives in Chicago. His articles have appeared in a variety of print and online publications such as the Rhodes Journalism Review, Focus on Africa Magazine, African Writing Online and African Muckraking, 75 Years of Investigative Journalism from Africa. He is the author of No Turning Back: Poems of Freedom 1990-1993 (2007) and co-editor of Their Champagne Party Will End! Poems in Honor of Bate Besong (2008). His poems have been published in several anthologies including Treasured Poems of America (1994) and Hiraeth-Erzolirzoli: A Wales - Cameroon Anthology (2018). Dibussi is also the author of Scribbles from the Den. Essays on Politics and Collective Memory in Cameroon (2009) and he produces the award-winning blog, Scribbles from the Den [https://www.dibussi.com]. His Twitter handle, @dibussi, is a leading source of news and analysis on Cameroon. Dibussi obtained a "Licence" in Public law and a "Maitrise" in Political Science from the University of Yaounde. He also holds Master's degrees in Political Science and Instructional Technology from Northeastern Illinois University, Chicago, and Northern Illinois University, DeKalb, respectively. He previously served as an Associate Editor for Cameroon Life Magazine and Cameroon Today.