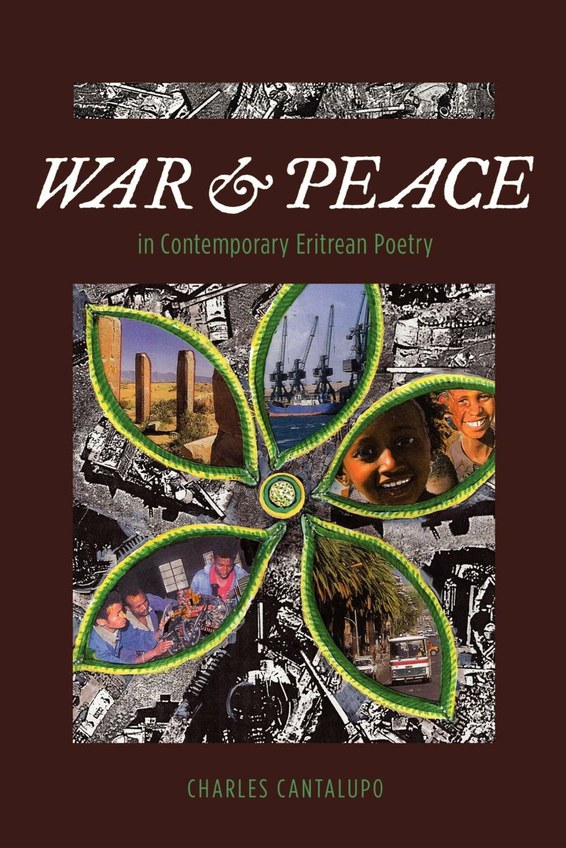 | | |
| --- | --- |
| ISBN | 9789987080533 |
| Pages | 178 |
| Dimensions | 229 x 152 mm |
| Published | 2009 |
| Publisher | Mkuki na Nyota Publishers, Tanzania |
| Format | Paperback |
War and Peace in Contemporary Eritrean Poetry
War and Peace in Contemporary Eritrean Poetry focuses on Eritrean written poetry from roughly the last three decades of the twentieth century. The poems appear in the anthology Who Needs a Story? Contemporary Eritrean Poetry in Tigrinya, Tigre and Arabic from which a selection is offered here in their original scripts of Ge'ez or Arabic, and in English translation.

Who Needs a Story? is the first anthology of contemporary poetry from Eritrea ever published, and War and Peace in Contemporary Eritrean Poetry is the first book on the subject. Therefore, the groundbreaking effort of the former warrants a discussion of its means of cultural production. All of the poets in Who Needs a Story? participated in the Eritrean struggle for independence (1961-91) as freedom fighters and/or as supporters in the Eritrean diaspora. Thus, contemporary Eritrean poetry divides itself between experiences of war and peace, although one can contain the other as well.

War and Peace in Contemporary Eritrean Poetry also includes an extended analysis of one of Eritrea's most famous contemporary poets Reesom Haile, as an example of the kind of extended analysis that many of the poets of Who Needs a Story? should stimulate and, last but not least, a meditation on how the author, a non-native speaker, personally becomes involved in Eritrean poetry translation.
Reviews
"Charles Cantalupo has amazingly traversed the threshold of the once solitary land, where oblivious Eritrean poets, all on their own, wrestled with gods and demons to grope for meaning in the heat of war and in the burning desire for peace. The uniquely creative translation discloses a vibrant poetry rendered in languages hardly resembling English, yet all the same allied to the family of world literature. While the poets in War and Peace in Contemporary Eritrean Poetry are only a small part of a vast body of ancient and modern poetry, this book offers a gate for poetics to triumph over the vitriol of politics as Eritrean poetry joins global forces in search of connectivity."
Beyene Haile, Author of Abidu'do Tibluwo (Madness), Dukan Tibereh (Tibereh's Shop)
"In War and Peace in Contemporary Eritrean Poetry, Charles Cantalupo writes about the poetry he is familiar with and which he has, more than any other literary or Africanist scholar to date, revealed to the world. In this study, Cantalupo is surefooted, proficient, and incisive. He deploys his scholarly expertise and personal experience of a poet into a discussion of the relatively young nation's rich poetic heritage. The concluding appendix of selected poems gives the reader an opportunity to ingest the ripeness of Eritrean poetry. This book is surely a welcome addition not only to critical works on contemporary African poetry but also to the subjects of war and peace in the Horn of Africa."
Tanure Ojaide, Frank Porter Graham Professor of Africana Studies and poet
"War and Peace in Contemporary Eritrean Poetry - intellectual insurgency precedes, accompanies, and transcends an oppressed nation in search of destiny. Such is the substance of the discourse of Charles Cantalupo, himself, poet, scholar."
Gilbert Doho, Professor of French and Francophone Studies, Case Western Reserve University
"War and Peace in Contemporary Eritrean Poetry is truly a path-breaking work.  It will not only help the non-Eritrean readers to get the right kind of perspective on the creation of poems in Eritrea and their proper appreciation but also provide a model of critical reading of poems to the budding Eritrean critics.  A very welcome book, indeed!"
"The poignant honesty of a non-native speaker coordinating a multi-language translation is refreshing, and Cantalupo, the persona in the book, is extremely likable. The modern scholar can easily relate to his struggles, triumphs, and his production.  It must also not be overlooked that this is also a how-to-book for a scholar wishing to do the same work of bringing to international attention the work of indigenous scholars who are not writing in European languages."
"One thing is clear from both Who Needs a Story and War and Peace: humanity thrives and benefits from a robust exchange of ideas, which comes into fruition when entities—individuals, nations—speak their minds and translation projects are both equitably encouraged and adequately funded."
Research in African Literatures