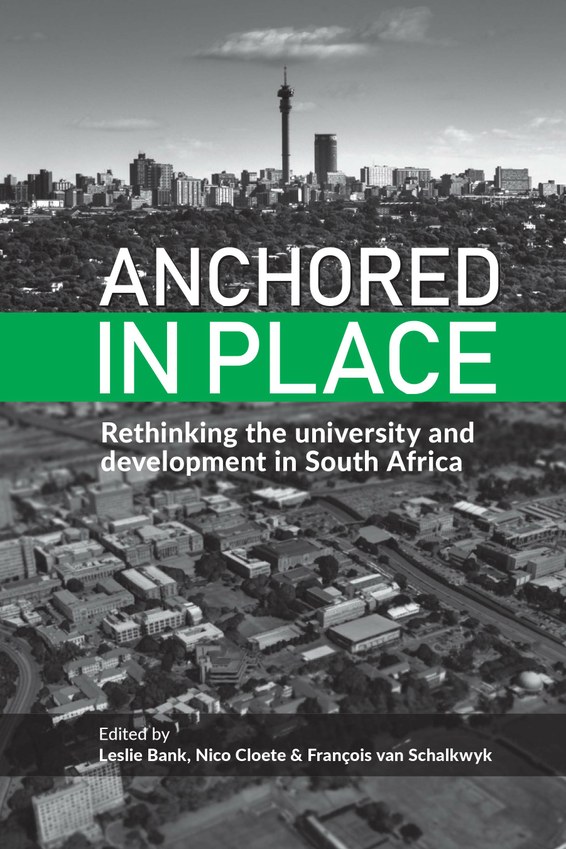 | | |
| --- | --- |
| ISBN | 9781928331759 |
| Pages | 252 |
| Dimensions | 234 x 156 mm |
| Published | 2018 |
| Publisher | African Minds Publishers, South Africa |
| Format | Paperback |
Anchored in Place
Rethinking the university and development in South Africa
Tensions in South African universities have traditionally centred around equity (particularly access and affordability), historical legacies (such as apartheid and colonialism), and the shape and structure of the higher education system. What has not received sufficient attention, is the contribution of the university to place-based development.
This volume is the first in South Africa to engage seriously with the place-based developmental role of universities. In the international literature and policy there has been an increasing integration of the university with place-based development, especially in cities. This volume weighs in on the debate by drawing attention to the place-based roles and agency of South African universities in their local towns and cities. It acknowledges that universities were given specific development roles in regions, homelands and towns under apartheid, and comments on why sub-national, place-based development has not been a key theme in post-apartheid, higher education planning.
Given the developmental crisis in the country, universities could be expected to play a more constructive and meaningful role in the development of their own precincts, cities and regions. But what should that role be? Is there evidence that this is already occurring in South Africa, despite the lack of a national policy framework? What plans and programmes are in place, and what is needed to expand the development agency of universities at the local level? Who and what might be involved? Where should the focus lie, and who might benefit most, and why? Is there a need perhaps to approach the challenges of college towns, secondary cities and metropolitan centers differently?
This book poses some of these questions as it considers the experiences of a number of South African universities, including Wits, Pretoria, Nelson Mandela University and especially Fort Hare as one of its post-centenary challenges.
About the Editors
Leslie Bank is a deputy executive director at the HSRC and adjunct professor of Social Anthropology at the University of Fort Hare. He is the author of City of Broken Dreams: Myth-making, Nationalism and University on the African Rust Belt (Michigan State University Press/ HSRC 2018), Imonti Modern: Picturing the Life and Times of a South African Location [with Mxolisi Qebeyi] (HSRC Press 2017) and Home Spaces, Street Styles: Contesting Power and Identity in a South African City (Pluto Press 2011). He is co-editor of Inside African Anthropology: Monica Wilson and her Interpreters (Cambridge Press 2013). He is a member of the editorial board of the International Africa Institute journal, Africa, a commissioning editor for the IAI monograph series, and twice past president of the Association for Anthropology in Southern Africa.
Nico Cloete is the director of the Centre for Higher Education Trust (CHET) in South Africa. He is an adjunct professor at the University of Oslo, and extraordinary professor in the DST-NRF Centre of Excellence in Scientometrics and Science, Technology and Innovation Policy (SciSTIP) at Stellenbosch University. He was general secretary of the Union of South African Democratic Staff Associations (UDUSA), and the research director of the South African National Commission on Higher Education (NCHE). Recent publications include Castells in Africa: Universities and Development.
François Van Schalkwyk is an independent researcher working in the areas of higher education studies, open data and scholarly communication. He holds masters degrees in education and publishing, and is currently reading for his doctorate in science communication at Stellenbosch University in South Africa. Recent publications include the volumes Castells in Africa: Universities and Development and The Social Dynamics of Open Data, as well as the journal article 'African university presses and the institutional logic of the knowledge commons' (Learned Publishing).