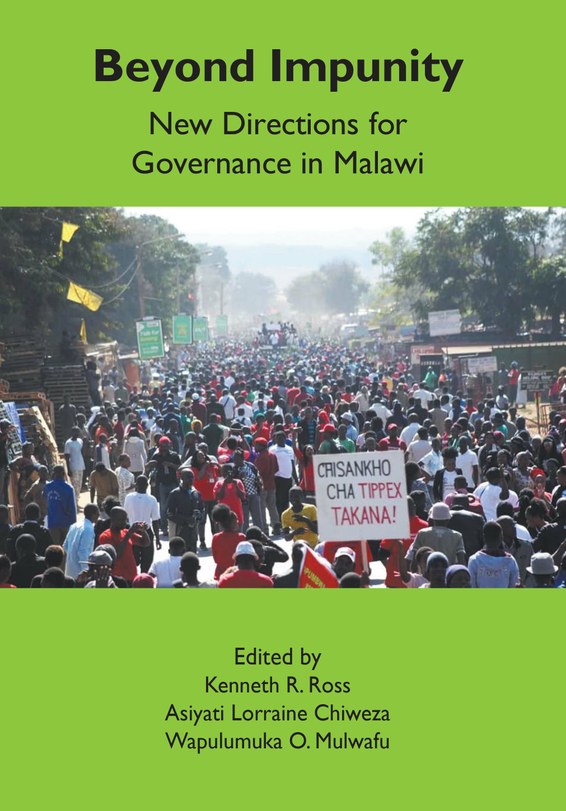 | | |
| --- | --- |
| ISBN | 9789996076077 |
| Pages | 398 |
| Dimensions | 244 x 170mm |
| Published | 2022 |
| Publisher | Mzuni Press, Malawi |
| Format | Paperback |
Beyond Impunity
New Directions for Governance in Malawi
Including a foreword by Paul Zeleza and co-published with the University of Cape Town Press this comprehensive, compelling, accessible and timely volume should be compulsory reading to academics, policy makers, social activists, and the general public in Malawi and elsewhere on the continent. The accounts the authors present of the pervasive dysfunctions of Malawi's troubled experiment with multiparty democracy since the mid-1990s, and the endlessly deferred dreams of development, are often dispiriting. Yet, their bleak diagnoses are often accompanied by ameliorative prescriptions that are simultaneously bold and pragmatic. The book exudes a sense of hope that the struggles for a better future will continue. In itself the book represents a testament to the possibilities of the country's democratic dispensation, the need to unflinchingly confront the country's debilitating political and socioeconomic pathologies. Such a text would have been unthinkable during the dictatorship of the founding president, Dr. Hastings Kamuzu Banda.
Reviews
"The events of 2019/2020 were momentous not just for democracy in Malawi but for the wider region. This impressive volume brings together critical insights that reveal why the presidential election was nullified, how key democratic institutions emerged stronger than before, and the challenges that still remain. It is essential reading for anyone working on Malawian politics or democratic consolidation more broadly".
Nic Cheeseman, Professor of Democracy, University of Birmingham
"Well researched and written by mostly Malawian scholars using a wide variety of local and international sources and new data collected through field work, this book offers fresh perspectives of an assortment of topical issues from the environment, federalism, and gender to governance, financial management, and trust. It also brings to our attention young scholars writing on Malawi, who offer different perspectives to those we are used to reading and refreshing new ways of looking at the country's historical and contemporary issues."

Diana Cammack, political scientist, South Africa
"An extremely engaging and gripping collection that analyses Malawi's democratic project in a historical and contemporary perspective with a depth and breadth that very few existing accounts can rival. This volume is a must read for all academics, researchers, policy makers, journalists, activists, diplomats and development practitioners who want to understand how Malawi works or does not work including its prospects for democratic maturity in a highly dynamic local and global context."
Blessings Chinsinga PhD Director at Centre for Social Research (CSR) and Professor at the Department of Political and Administrative Studies, University of Malawi
About the Editors
Kenneth R. Ross is Professor of Theology at Zomba Theological College, Malawi, and Associate Minister of Bemvu Parish, CCAP. Earlier he has served as Professor of Theology at the University of Malawi, General Secretary of the Church of Scotland Board of World Mission and Chair of the Scotland Malawi Partnership.
Asiyati Chiweza is a Senior Lecturer in the Department of Political and Administrative Studies, Chancellor College, University of Malawi. She has a PhD from Curtin University, Western Australia and an MA in Public Administration from Dalhousie University, Canada. She has many years of local and international consulting experience dealing with local citizen voice programmes, and other issues related to advocacy, gender analysis, citizen participation, decentralization and local governance.
Wapulumuka O. Mulwafu is Professor of Environmental History and Dean of Postgraduate Studies at Chancellor College, University of Malawi.