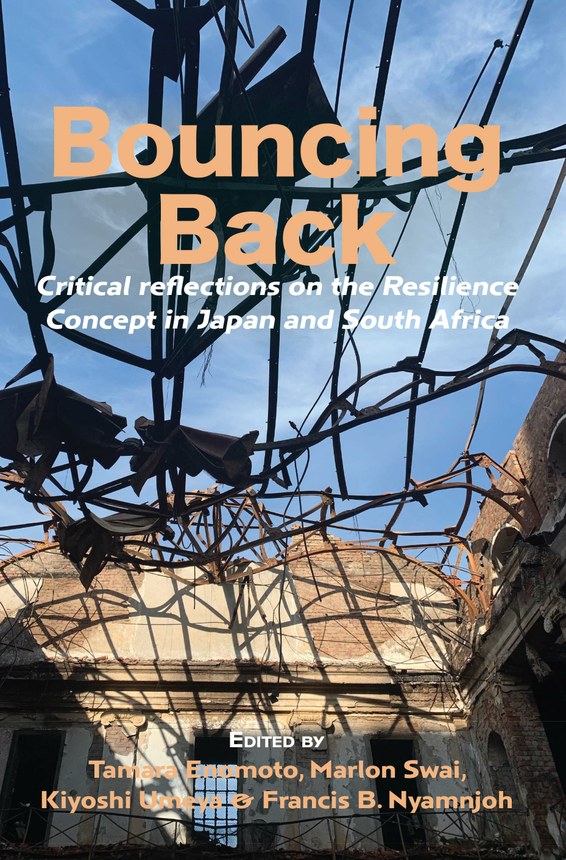 | | |
| --- | --- |
| ISBN | 9789956552238 |
| Pages | 438 |
| Dimensions | 229 x 152mm |
| Illustrations | Colour Illustrations and Colour Photographs |
| Published | 2022 |
| Publisher | Langaa RPCIG, Cameroon |
| Format | Paperback |
Bouncing Back
Critical reflections on the Resilience Concept in Japan and South Africa
In 2018 South Africa's so-called "mother city", Cape Town came into the global spotlight as being the first city in the world to (almost) "run out of water," a crisis that only exacerbated the pressures placed upon a population staggering under socio-economic and politically-tinged environmental predicaments. Japan on the other hand has long sustained an international reputation for the massive scale of natural and anthropocentric crises its people have faced, overcome, and succumbed to. The most recent (pre-Pandemic) occurrence of which being the 2011 tsunami and Fukushima Daiichi nuclear plant accident. What comes to mind when Japan, South Africa, and the notion of resilience are mentioned in the same utterance? Well, considering how societies respond to disaster, (man-made and natural), Japan and South Africa feature high on many lists both for our triumphs and our failures to account for the most vulnerable among us in moments of catastrophe. This edited volume draws on transdisciplinary perspectives and multi-sited research to reflect on the high stakes involved when people are expected to repeatedly survive crisis. The authors take "resilience" as a contested yet generative lens through which to examine some of the most salient questions of our time. Culled from two seemingly disparate geopolitical locales, the insights offered here are hauntingly connected, shedding light on questions of collective and individual responses to calamity – questions that, in the wake of the Covid-19 global pandemic, are now urgently being grappled with by everyone, everywhere.
Reviews
"A unique work on direct dialogue between Japan and South Africa, unmediated by Western social theory. A critical, creative intellectual experiment examining resilience, which emerged as an important concept in relation to survival in the 1970s, and has now become a keyword for reading the world, in relation to two societies that experienced great disasters: apartheid and a mega quake/tsunami."

Motoji Matsuda, President, Japan Association for African Studies
"The authors bring together a transcontinental conversation and shine a fresh light on problematising the concept, and indeed perception, of resilience. The authors offer insights into the social systems for and against that predicates resilience and very deftly contexualise the often assumed African social system's resilience per excellence. A well thought through and must read book in grappling with the complexity of resilience as a concept and lived experience."
Edward K. Kirumira, Professor of Medical Sociology and Director, Stellenbosch Institute for Advanced Study (STIAS), South Africa
About the Editors
Tamara Enomoto is Professor at the Organization for the Strategic Coordination of Research and Intellectual Properties, Meiji University.
Marlon Swai is a writer, researcher and performance artist who lectures in Anthropology at the University of Cape Town.
Kiyoshi Umeya is a graduate of Keio University (BA, MA) and Hitotsubashi University (PhD), Professor of Social Anthropology at the Graduate School for Intercultural Studies at Kobe University and Visiting Professor at the University of Cape Town (2019-2020). He has carried out fieldwork among the Jopadhola in Eastern Uganda extensively since 1997 as Research Fellow at Makerere University.
Francis B. Nyamnjoh joined the University of Cape Town in August 2009 as Professor of Social Anthropology from the Council for the Development of Social Science Research in Africa (CODESRIA), Dakar, Senegal, where he served as Head of Publications from July 2003 to July 2009. He has taught sociology, anthropology and communication studies at universities in Cameroon and Botswana, and has researched and written extensively on Cameroon and Botswana. In October 2012 he received a University of Cape Town Excellence Award for "Exceptional Contribution as a Professor in the Faculty of Humanities". He is recipient of the "ASU African Hero 2013" annual award by the African Students Union, Ohio University, USA. He is: a B1 rated Professor and Researcher by the South African National Research Foundation (NRF); a Fellow of the Cameroon Academy of Science since August 2011; a fellow of the African Academy of Science since December 2014; a fellow of the Academy of Science of South Africa since 2016; and Chair of the Editorial Board of the South African Human Sciences Research Council (HSRC) Press since January 2011. His scholarly books include: Africa's Media, Democracy and the Politics of Belonging (2005); Insiders and Outsiders: Citizenship and Xenophobia in Contemporary Southern Africa (2006); "C'est l'homme qui fait l'homme": Cul-de-Sac Ubuntu-ism in Côte d'Ivoire (2015); and #RhodesMustFall: Nibbling at Resilient Colonialism in South Africa (2016).