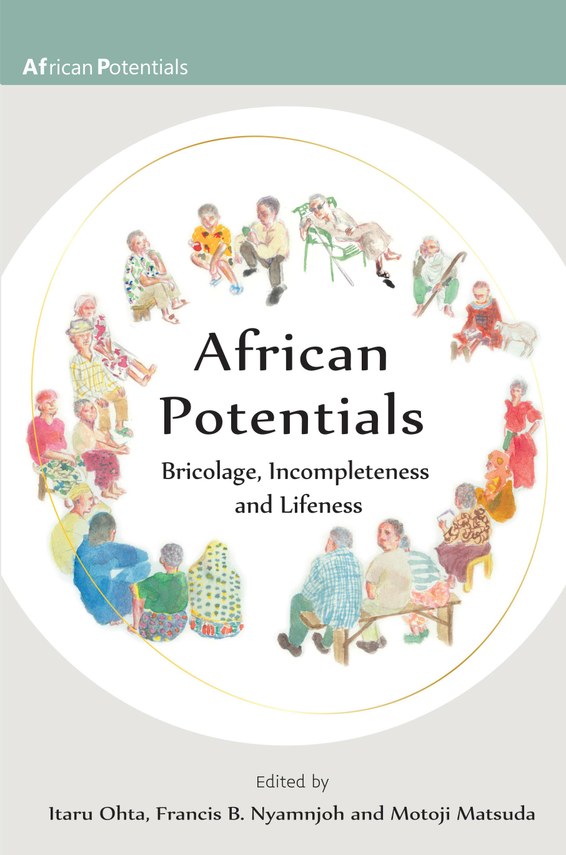 | | |
| --- | --- |
| ISBN | 9789956552306 |
| Pages | 332 |
| Dimensions | 229 x 152mm |
| Illustrations | Colour Photographs |
| Published | 2022 |
| Publisher | Langaa RPCIG, Cameroon |
| Format | Paperback |
African Potentials
Bricolage, Incompleteness and Lifeness
This book is the result of a research project, called African Potentials, that we have been conducting for 10 years. This project was aimed at overturning negative stereotypes the world has imposed on Africa, such as poverty, hunger and conflict, the achievement of which would help to decolonise and de-Westernise our world while creating a new, alternative future. This book explores how this can be achieved, focusing on the wealth of African knowledge and institutions that African people have created and practised throughout their history. While learning from these indigenous systems, this book reconsiders the subservience to Western values that have been assumed to be universally applicable. This volume aims to establish an ideology that radically transforms the dominant framework of knowledge, and that can relativise and pluralise the hegemonic centre.
Reviews
"This is a profoundly important book-published by Langaa rather than university presses such as Oxford, Cambridge or Duke. It represents a truly remarkable intervention that is part of an exciting series of books resulting from a decade-long collaboration between African and Japanese scholars. Their partnership clearly demonstrates that they take African life, knowledge, and capacity for remaking Africa in/and the world seriously. One cannot read African Potentials without being compelled to question and think beyond the established parameters of what has been canonized about Africa. The convivial scholarship encountered in this book and the larger project of which it is a part reveals that robust forms of decolonial, pluriversal knowledge are being produced through critically creative and creatively critical means of inter-cultural engagement. This book shows what can be accomplished through the concerted effort of shifting the geography of reason from the West to other intellectually fertile landscapes and crossroads on the planet."
Faye V. Harrison, Professor of African American Studies & Anthropology, University of Illinois
"This newest offering of the African Potentials Project explores crucial foundational questions confronting the enterprise of actualizing African potentials in ways which are freed from the continuing grip of Western colonialist prejudices and prescriptions, nourished by the vital resources of endogenous thought and practices, and yet "porous," as the poet wrote, "to all the breathing of world." To that end the contributing essays address relevant debates in contemporary African philosophy, appraisals of the strengths and weaknesses of traditional forms of political legitimation and debate, contestation and conflict resolution, resistance to oppressive and predatory regimes, the resilience of local norms of welcoming strangers in this season of creeping xenophobia. The result is a rich and variegated set of critical examinations and suggestions for discarding imperial and tyrannizing models of human knowledge, existence and association, and reactivating more liberating and enabling precepts and practices in this time of crisis."
Ato Sekyi-Otu, Emeritus Professor of Social and Political Thought, York University
"This book challenges colonial and age-old Western academic views that have dominated and marginalised African indigenous knowledge system. It spreads further the wings of knowledge and endeavour about an African way of thinking on conflict resolution and co-existence, and analytically connects this to the pursuit of Africa's sustainable development frameworks. Ohta, Nyamnjoh and Matsuda are teachers you always wished for but never had. Together, they have made this book a path-breaking one, and essential reading for a broad based understanding of the African mindset."

Aparajita Biswas, Retd Professor, the Centre for African Studies, University of Mumbai
"What are African Potentials? A question which has been linked with African countries' decolonisation and their development process. These African potentials as well as problems need to be discussed within an interdisciplinary platform of scholars, policy and decision makers, and civil societies. This African Potentials Project responds to all those needs and became a driving force to understand Africa and build a collaboration between African and Japanese scholars toward a common goal, changing the stereotype image of Africa and thinking about a better future for Africa. I hope that this book, as a result of a 10-year interdisciplinary, international joint research project, can be a reference for building new partnership between African and Japanese scholars, civil societies and regional institutions."
Oussouby Sacko President, Kyoto Seika University, Japan
About the Editors
Itaru Ohta is Professor in the Center for African Area Studies at Kyoto University. 
Motoji Matsuda is Professor in the Graduate School of Letters at Kyoto University.
Francis B. Nyamnjoh joined the University of Cape Town in August 2009 as Professor of Social Anthropology from the Council for the Development of Social Science Research in Africa (CODESRIA), Dakar, Senegal, where he served as Head of Publications from July 2003 to July 2009. He has taught sociology, anthropology and communication studies at universities in Cameroon and Botswana, and has researched and written extensively on Cameroon and Botswana. In October 2012 he received a University of Cape Town Excellence Award for "Exceptional Contribution as a Professor in the Faculty of Humanities". He is recipient of the "ASU African Hero 2013" annual award by the African Students Union, Ohio University, USA. He is: a B1 rated Professor and Researcher by the South African National Research Foundation (NRF); a Fellow of the Cameroon Academy of Science since August 2011; a fellow of the African Academy of Science since December 2014; a fellow of the Academy of Science of South Africa since 2016; and Chair of the Editorial Board of the South African Human Sciences Research Council (HSRC) Press since January 2011. His scholarly books include: Africa's Media, Democracy and the Politics of Belonging (2005); Insiders and Outsiders: Citizenship and Xenophobia in Contemporary Southern Africa (2006); "C'est l'homme qui fait l'homme": Cul-de-Sac Ubuntu-ism in Côte d'Ivoire (2015); and #RhodesMustFall: Nibbling at Resilient Colonialism in South Africa (2016).