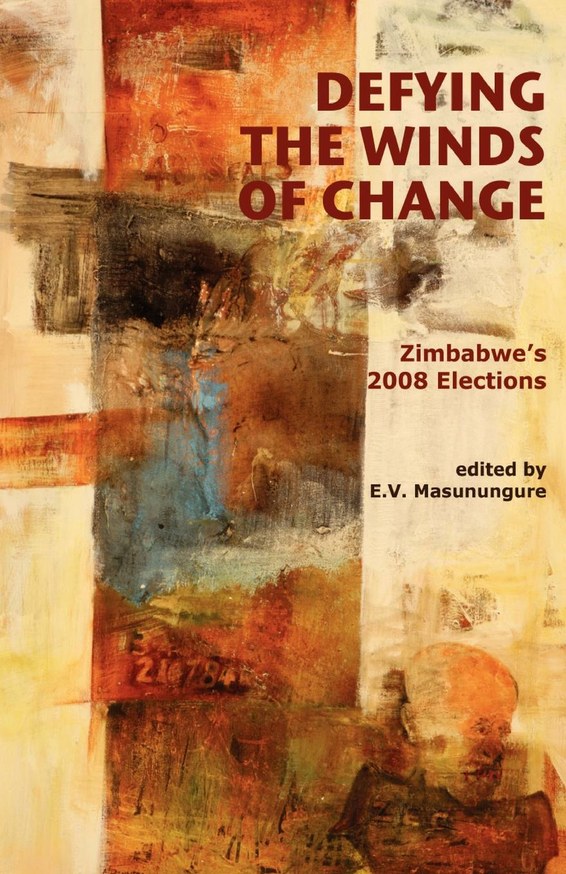 | | |
| --- | --- |
| ISBN | 9781779220868 |
| Pages | 184 |
| Dimensions | 216 x 140 mm |
| Published | 2009 |
| Publisher | Weaver Press, Zimbabwe |
| Format | Paperback |
Defying the Winds of Change
Zimbabwe's 2008 Elections
After years of economic and social crisis, Zimbabweans went to the polls in March 2008 to vote for members of parliament, local government councillors and a president.
The ruling ZANU(PF) party's defeat in the 2000 constitutional referendum created shockwaves that echoed into the new millennium. The harmonized March 2008 elections saw the party lose its parliamentary majority for the first time since Independence, and left the hitherto impregnable Robert Mugabe trailing behind Morgan Tsvangirai in the presidential poll.
Defying the Winds of Change reviews the social and economic context of the election, its coverage in the media, its legitimacy, and the consequences of the decision to hold a presidential run-off three months later. The intervening period was marked by the worst violence the country had seen in twenty years: many were killed, hundreds injured, thousands displaced.
Tsvangirai withdrew from the run-off to prevent even more bloodshed, leaving Mugabe to win a hollow victory in an election that was condemned throughout the world. Defying the Winds of Change is a penetrating analysis of the political turmoil that spawned Zimbabwe's power-sharing government, and laid the foundations for a new political future.
About the Editor
Eldred V. Masunungure is a Political Science and Public Administration graduate of the University of Zimbabwe and Dalhousie University (Canada) and teaches Public Policy and Political Theory courses at both undergraduate and post-graduate levels in the Department of Political and Administrative Studies at the University of Zimbabwe. He has published widely, including editing Defying the Winds of Change: Zimbabwe's 2008 Elections (2009) and co-editing Zimbabwe: Mired in Transition (2012). He is the Director of the Harare-based Mass Public Opinion Institute, where he is the Principal Investigator of the Afrobarometer Project.