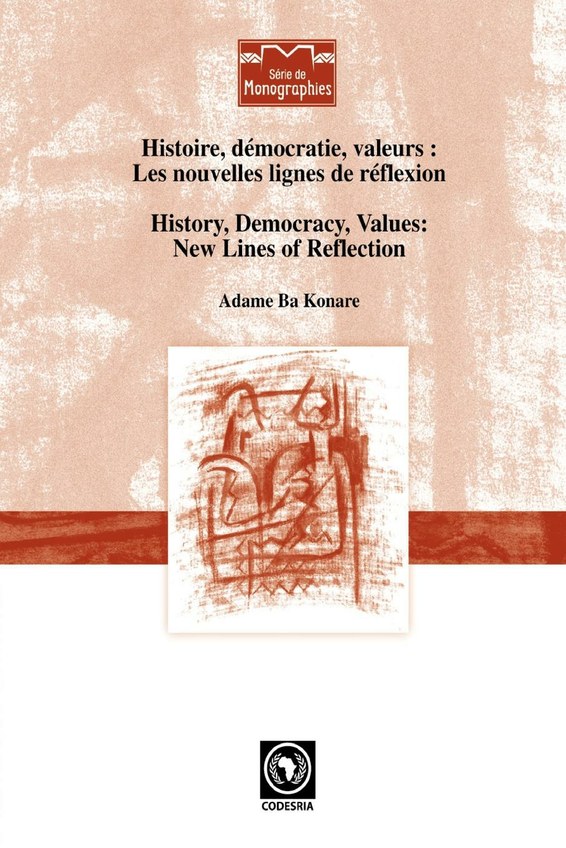 | | |
| --- | --- |
| ISBN | 9782869782587 |
| Pages | 56 |
| Dimensions | 229 x 152 mm |
| Published | 2008 |
| Publisher | CODESRIA, Senegal |
| Format | Paperback |
History, Democracy, Values: New Lines of Reflection
At the 11th General Assembly of CODESRIA, which was held in Maputo in December 2005, Adame Ba Konaré presented the Leopold Sedar Senghor Lecture, casting her historian eye on democracy and its values. Konaré calls for the enshrinement of democracy in Africa, where citizens are free to participate responsibly in decision-making on matters of common interest, and in ways that simply do not mimic externally induced notions or reflect unquestioningly the will of Heads of State.
Jetant son coup d'oeil d'historienne sur la démocratie et ses valeurs, Adame Ba Konaré a fait le discours Leopold Sedar Senghor lors de la 11ème Assemblée Générale du CODESRIA à Maputo en Décembre 2005. Konaré a appelé à l'enracinement de la démocratie dans une Afrique où les citoyens sont libres de participer à part entière au processus de prise de décisions qui répondent à l'intérêt général ; ceci d'une manière qui ne constituerait pas une simple imitation de notions inoculées de l'extérieur ou qui refléterait sans questionnement le désir des Chefs d'Etat.
(This dual language edition is in both English and French).