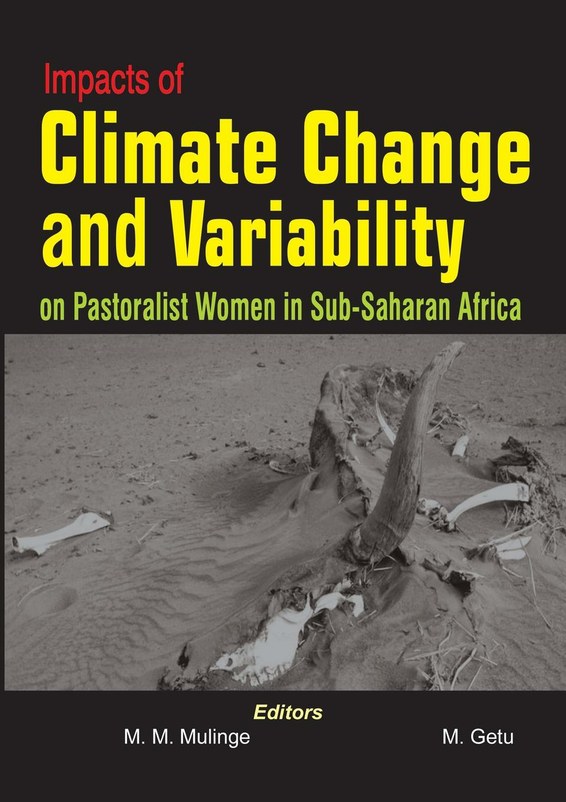 | | |
| --- | --- |
| ISBN | 9789970252367 |
| Pages | 358 |
| Dimensions | 210 x 148 mm |
| Published | 2013 |
| Publisher | Fountain Publishers, Uganda |
| Format | Paperback |
Impacts of Climate Change and Variability on Pastoralist Women in Sub-Saharan Africa
The term climate change is used to denote any significant but extended change in the measures of climate. The changes could be due to natural variability or as a result of human activities, such as the burning of fossil fuels to produce energy, deforestation, industrial processes, and some agricultural practices. Such activities release large amounts of carbon dioxide and other greenhouse gases into the atmosphere that hang like a blanket around the earth, thus trapping energy in the atmosphere and causing it to warm up. This results increasingly in climate variability, which is characterised by extreme seasonal, annual, temporal and non-spatial variability in temperature, vagaries of precipitation (rainfall patterns and amounts) and/or wind patterns occurring over a prolonged period of time. The last decade (2001 - 2010) has been the warmest on record; with the average temperatures reaching 0.46C, above the 1961 - 1990 mean, and 0.21C warmer than the 1991 - 2000 period. It has been proved that the African continent is warming up faster, all year-round, than the global average; a trend that is likely to continue. By the year 2100, it is predicted that temperature changes will fall into ranges of about 1.4C to nearly 5.8C increase in mean surface temperature compared to 1990, and the mean sea level will rise between 10cm to 90 cm (AMCEN 2011). The interior of semiarid margins of the Sahara and central southern Africa will be the most affected by such warming (AMCEN 2011). To tackle the phenomenon of climate change effectively, human societies have put in place a combination of mitigation and adaptation mechanisms and strategies. Whereas mitigation aims at avoiding or lessening the impacts of the unmanageable, the goal of adaptation is to manage the unavoidable. That men and women are affected differently by climate change suggests that they also differ in terms of the adaptation mechanisms they employ. Despite the existence of gender-based differences in the effects of climate change and in adaptation and coping strategies, studies on the gender differential impacts of climate change and variability on women in general and pastoralist women in particular in sub-Saharan Africa are limited. This volume offers insights and knowledge that pastoralist women developed on climate change adaptation through their experiences in their households and communities and thereby tries to narrow this gap.
About the Editors
Munyae M. Mulinge is a Professor of Sociology, School of Humanities and Social Sciences, United States International University (USIU) in Nairobi, Kenya. He holds a PhD in Sociology from the University of Iowa, USA. 
Melese Getu received a PhD degree in social anthropology from the University of Manchester and is a Programme Specialist at OSSREA. Prior to that, he was a senior faculty member at Addis Ababa University where he worked from 1991 to 2010. He taught in the graduate programmes of Social Anthropology and Social Work, focusing on project management, social policy and ethics, gender and development and qualitative research methods. He also served as Associate Dean of the College of Social Sciences for three years; and Associate Dean and then Dean of the School of Social Work at Addis Ababa University for four years. He has several years of experience in multi-disciplinary research, and is a member of several professional associations. Melese has published several articles and book chapters and edited books, the most recent of which include: People at Risk: Towards a Comprehensive Social Protection Scheme in Ethiopia (2011). His research interests include conflict and natural resources management, pastoralism and development, gender and development, social policy, social protection and public health issues.