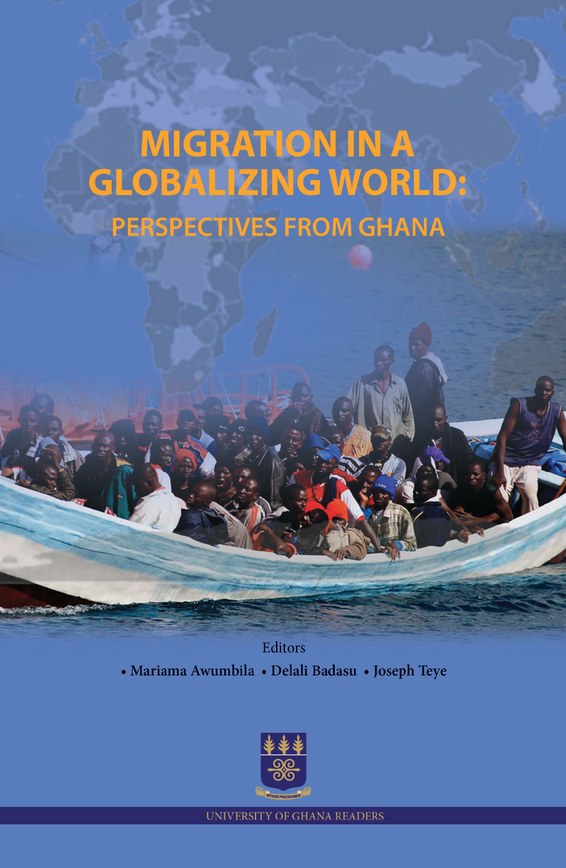 | | |
| --- | --- |
| ISBN | 9789988882914 |
| Pages | 274 |
| Dimensions | 234 x 156 mm |
| Published | 2018 |
| Publisher | Sub-Saharan Publishers, Ghana |
| Format | Paperback |
Migration in a Globalizing World
Perspectives from Ghana
Migration has assumed growing significance in the global development agenda as its potential for economic and social development is increasingly acknowledged. Within the Africa context, perceptions of migration as a negative phenomenon have shifted to recognition of its central role to Africa's transformation. Despite this shift, emerging migration  dynamics have not been adequately contextualized and conceptualized, making it difficult to integrate migration into development planning processes. This book attempts to fill the gaps in migration knowledge production, particularly from the perspectives of researchers in the global south and more specifically from Ghana. The chapters provide multi disciplinary perspectives in the contemporary migration landscape in Ghana and Africa. Rather than focus on migration as a problem to be solved, the chapters explore migration as an intrinsic part of the broader processes of structural change in Ghana, which could create opportunities for development if properly harnessed. This reader is an essential resource for migration and development researchers, students, policy makers, practitioners and others interested in the field of development.
About the Editors
John Kwasi Anarfi has a PhD in Population Studies from the Regional Institute for Population Studies (RIPS), University of Ghana, Legon. He spent one year as a Post-Doctoral Fellow at the Australian National University (ANU), Canberra, in 1993 under a Population Council Fellowship. He worked as a Research Fellow at the Institute of Statistical, Social and Economic Research (ISSER), University of Ghana, Legon from November 1989 till his retirement in July 2009. Between 2001 and 2007, he was the Deputy Director of ISSER. He is now Associate Professor of Population Studies (post-retirement contract) at RIPS. His areas of specialization include migration studies, women in migration, sexuality and AIDS, adolescent reproductive health and street children.
Alhassan Sulemana Anamzoya is a Senior Lecturer at the Department of Sociology, University of Ghana, Legon, where he obtained his PhD in Sociology with a special interest in legal anthropology. His recent research focuses on chieftaincy and law, migration, access to justice and micro analysis of the court system. His publications are in the Legon Journal of Sociology, Research Review, African Review, and the Journal of Legal Pluralism and Unofficial Law. He is a Postdoctoral Fellow of the American Council of Learned Societies (AHP), and, has collaborated with: colleagues in the English Department of the University of Ghana on the Language Choice and Language Shift Among Migrants in Accra; with colleagues at the University of Hamburg and Bayreuth (both in Germany), and, LASDEL (Niamey) on African Courts and Institutional Development), and, with Colleagues in the Sociology Department and Department of Geography and Resource Development (University of Ghana), on Migrant Chiefs in Urban Ghana. 
Geraldine Adiku is completing her DPhil (PhD) in International Development at the Oxford Department of International Development (ODID), University of Oxford. Her research focuses on understanding the complex role of diverse socio-economic backgrounds, migration motivations and experiences of migrants and their relatives, in influencing the nature, volume and direction of transnational transfers (remittance and reverse remittances). She has just completed a six month stint as a junior visiting research fellow at the Faculty of Arts and Social Sciences (FASoS), Maastricht University.