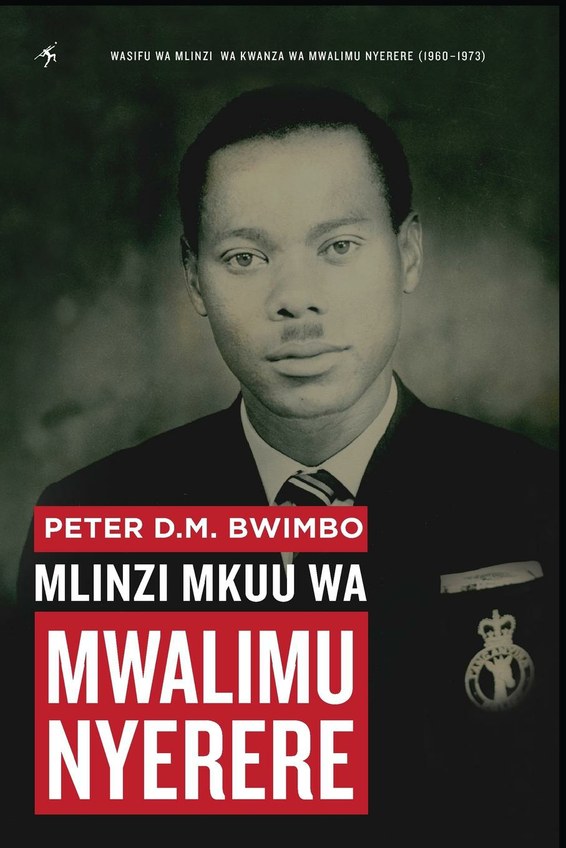 | | |
| --- | --- |
| ISBN | 9789987753321 |
| Pages | 144 |
| Dimensions | 234 x 156mm |
| Published | 2015 |
| Publisher | Mkuki na Nyota Publishers, Tanzania |
| Format | Paperback |
Peter DM Bwimbo: Mlinzi Mkuu wa Mwalimu Nyerere
Tarehe 20 Januari 1964 maofisa 15 wa Jeshi la Tanganyika (Tanganyika Army) lililorithiwa kutoka serikali ya kikoloni ya Tanganyika, Colito Barracks (Kambi ya Lugalo) waliongoza maasi ya kijeshi dhidi ya serikali ya Tanganyika. Kikundi kimoja kilikwenda Ikulu kutaka kumlazimisha Rais Nyerere kukubali matakwa yao. Haijulikani ingekuwaje kama kingefanikiwa, na kama Rais Nyerere angeyakataa madai yake. Lolote lingetokea na historia ya Tanzania na ya Afrika ingeathirika vibaya mno. Kwa ujasiri na ubunifu makini, Peter Bwimbo, aliyekuwa mkuu wa kitengo cha ulinzi wa viongozi, (Presidential Securty Unit) na mlinzi mkuu (Body Guard) wa Rais Nyerere, iliwahamisha Rais Nyerere na Makamo wake Rashis Kawawa, akawapeleka mahali salama, akawaepusha na hatari, pengine ya kuuawa. Hiyo ndiyo iliyoitwa Operesheni Magogoni. Katika kitabu hiki, Mzee Peter Bwimbo, kwa maelezo yake mwenyewe ametoa siri ambayo ni wachache sana waliyoifahamu; haya ndiyo maelezo sahihi ya mbinu alizotumia kuwaokoa viongozi wa nchi.
Kitabu hiki pia ni historia ya Peter Bwimbo, na ya Kitengo cha ulinzi wa viongozi katika Idara ya Usalama wa Taifa. Historia hiyo inaeleza mambo mengi pia kuhusu Tanganyika na Tanzania katika vipindi mbalimbali; jinsi viongozi wa TANU walivyojaribu kuzuia asiwe mlinzi wa Rais kwa sababu alikuwa "jasusi" wa wakoloni katika Special Branch; jinsi Mwalimu alivyoingia kati na kumaliza fitina hiyo; sifa za kazi ya ulinzi wa Rais (ujasiri, umakini na uwezo wa kufanya uamuzi sahihi na haraka, na uzalendo wa kuwa tayari kujitoa muhanga ili kumlinda) na mengine. Kutokana na matatizo ya kinidhamu na uadilifu yaliyoikumba Idara ya Usalama wa Taifa, mwaka 1975 Mwalimu aliamua kuwastaafisha viongozi wote wa juu katika Idara ya Usalama wa Taifa, licha ya kuwa alifahamu kuwa Peter Bwimbo hakuwa na dosari yoyote, na hasahasa alikuwa mbele katika kufichua madhambi yaliyokuwa yakitendeka Idarani. Mwaka 1978 alipewa kazi katika Shirika la Reli kuanzisha kitengo cha Usalama, kazi iliyokuwa muhimu sana wakati wa Vita ya Kagera. Mwaka 1985 alipewa Nishani ya Ushupavu (Gallantry Medal) kwa ujasiri wake wakati wa Operation Magogoni na uaminifu wake katika kazi ya Body Guard wa Rais Nyerere.
On 20th January 1964, at the Colito Army Barracks just outside Dar es salaam, 15 officers of the Tanganyika Army that was inherited from the colonial state led a mutiny against the independent Tanganyika government. One group went to the State House with the intention of forcing President Julius Nyerere to accept their demands. What would have happened if they had succeeded in entering the State House and if President Nyerere had refused to accept their demands, as he most likely would have done? Anything could have happened and in the worst case scenario Tanzania's history and indeed the history of the whole of Africa would have been seriously affected.
This book is about the courage and quick thinking of Peter Bwimbo, the then head of the Presidential Protection Unit and Nyerere's Chief Body Guard who, alone, planned and executed an ingenious and successful evacuation of President Nyerere and Vice President Rashid Kawawa, whisking them away from the State House before the mutineers got there. By a clever ruse he convinced the ferry operators on duty before dawn to ferry them across the Kigamboni Creek. From there they walked several miles to a hiding place in a house that was offered by an ordinary citizen and where they stayed until the situation was normalised several days later.