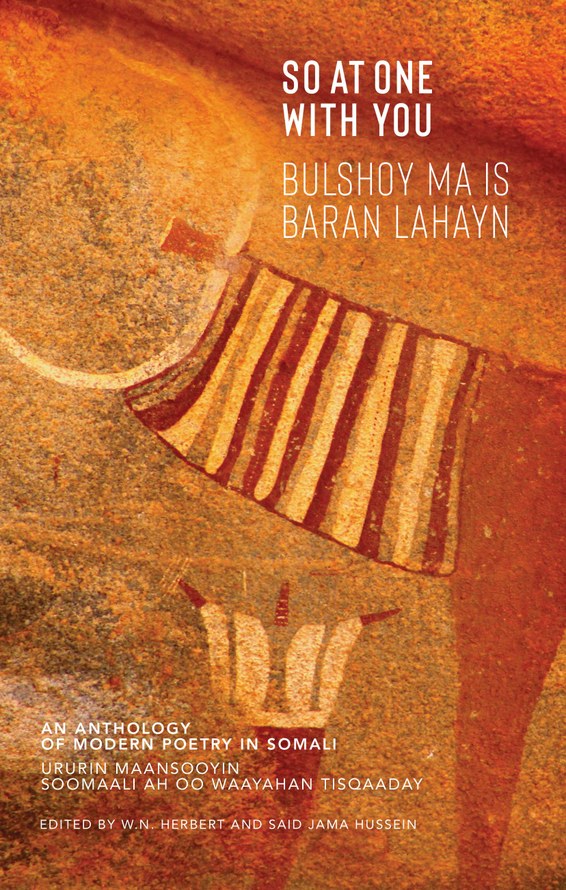 So At One With You
An Anthology of Modern Poetry in Somali
So At One With You is a groundbreaking anthology of the last fifty years of Somali poetry, and marks ten years of collaboration between Kayd Somali Arts and Culture and the Poetry Translation Centre. The anthology celebrates the primary medium for public debate in this 'nation of poets', where audiences in their hundreds gather to listen to an intricate, virtuosic artform that speaks directly to them about the great issues of their time.
As the title – taken from the work of Maxamed Ibraahin Warsame "Hadraawi" – suggests, in Somali literature the poet is utterly at one with their listener sharing values and aesthetics in an intimate manner that offers food for thought to English-speaking writers, readers, and critics.
The present selection brings together eighteen key poets from across the generations, and combines tender love poetry and pastoral idyll with scathing attacks on corruption and hypocrisy, as well as social satire on life in the cities of the Horn of Africa and across the globe. This is a world poetry, both in its imaginative reach and in its ability to speak to the debates we all face in a time of global crisis.
About the Editor
Said Jama Hussein is a well-known Somali scholar, intensely devoted to the promotion of the Somali language and culture. He is the author of Shufbeeland and Safar Aan Jaho Lahayn; both are collections of short stories and literary essays. His most recent work Ma Innaguun Baa! also published by Ponte Invisibile, comprises of short stories and personal Memoirs.