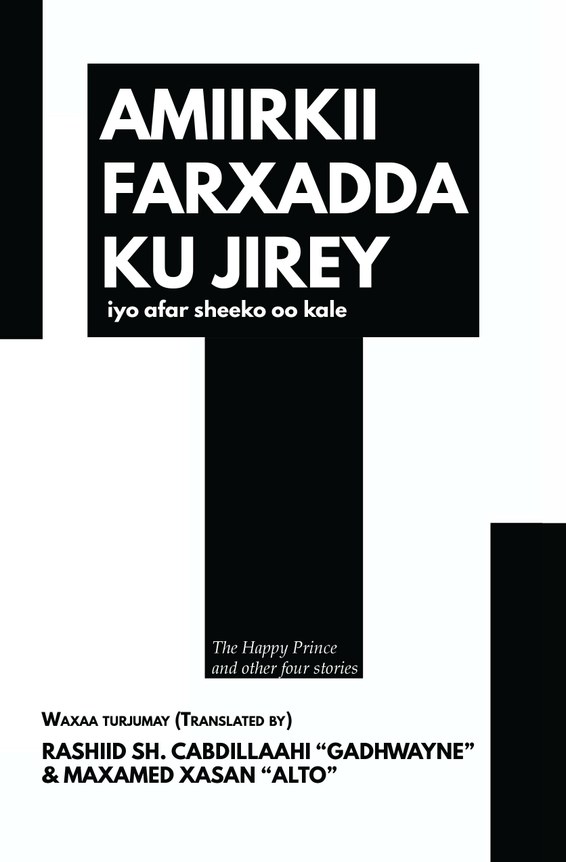 Amiirkii farxadda ku jirey iyo afar sheeko oo kale
The Happy Prince and other four stories
Published in this Volume 6 of Iswaydaarsi (exchange) series, is a collection of five short stories English novelists and story writers. Each story has been translated into Somali by Rashid Sheikh Abdullahi and Mohamed Hassan. The original stories in English and their translated Somali version are both included in the book. Also included are the translated works, into English of visiting artists to the Somali Week Festival 2012.
The Iswaydaarsi (exchange) series offers translations into Somali of English works by Charles Dickens, Robert Louis Stevenson, Edith Nesbit and Oscar Wilde; and from Somali poetry by Said Salah, Muuse Cali Faruur, Cabdi Yuusuf Xasan "Cabdi-dhuux", Faysal Cumar Mushteeg and Xasan Qowdhan Yuusuf into English. The series intends to provide knowledge of international classical literature to the Somali speaking readership, alongside Somali literature and wisdom.
About the Editors
Maxamed Xasan 'Alto' was born in 1960. He studied in Somalia and the Soviet Union and has an MA in Journalism. Since 2004 he has been a teacher in Somali language at SOAS London. He is a writer and freelance journalist and has published and edited many books in the Somali language. He has worked closely with Dr Martin Orwin on a Profile of translated poets number of Somali poetry translations and is closely involved with the Poetry Translation Centre.
A well-known Somali scholar, social scientist and literary critic, Rashid Sh. Abdillahi was born in Somalia in 1944. He graduated from the Cairo University with M.A degree in sociology. He is the author of 'Adduun iyo Taladi', literary essays and articles. He has edited several Somali books, notable amongst them being Ahmed Sh. Jama's highly acclaimed 'Cadlidoonaha Daal Allaa Baday', and a collection of Somali poems on the theme of war and peace. His latest work 'Qaran iyo Qabiil' is published by Ponte Invisibile. Rashid Gadhweyne is a strong promoter of Somali literature and culture and is actively involved in the highly valued cultural events, the Somali Week Festival and the Hargeisa International Book Fair, held annually in London and Hargeysa respectively.