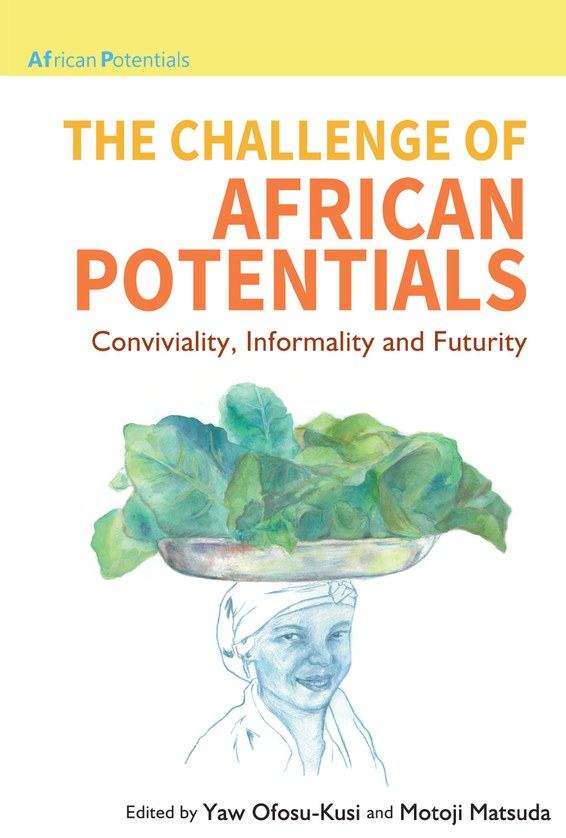 | | |
| --- | --- |
| ISBN | 9789956551149 |
| Pages | 276 |
| Dimensions | 229 x 152mm |
| Illustrations | Colour Illustrations |
| Published | 2020 |
| Publisher | Langaa RPCIG, Cameroon |
| Format | Paperback |
The Challenge of African Potentials
Conviviality, Informality and Futurity
This collection of articles is based on presentations and discussions at the 2018 African Potentials Forum, held in Accra, Ghana. This forum was a part of the African Potentials Project, which aims to clarify the latent problem-solving abilities, ways of thinking, and institutions that have been created, accumulated, unified, and deployed in the everyday experiences of Africans. The notion of Africa's latent power/potential is not related to romanticisation of the traditional knowledge of African society and its institutions as fixed, essentialised 'magic wands'. This notion also raises objections against political dogmas that seek to smoke out and eliminate thought and values originating in Western modernity. The keyword of the Accra Forum was futurity. Africa's future is laden with possibilities, latent power, and potential. It is bright and hopeful but, simultaneously, bleak and thought-provoking. For nascent democracies and economically challenged communities, the value of this potential lies not in its static qualities but in how these qualities can be harnessed and translated into beneficial practical outcomes. As a concept, 'potential' connotes a time to come; a futurity that is full of known and unknown possibilities, challenges, and opportunities.
Reviews
"The 'African Potentials' project has creatively released the perspective of African agency to the world audience, encouraging more positive imagery of Africa. It unpacks genuine African abilities based on indigenous knowledge as well as local contexts and institutions."
Liu Haifang, Executive Director, Centre for African Studies, Peking University, China
"Through bringing distinguished scholars from Africa and Asia together, this book discusses the African continent's potential from many perspectives, including language, education, religion and other fields of humanities, which have often been ignored."
Sun Xiaomeng, Dean of the School of Asian and African Studies, Beijing Foreign Studies University, China
"Something new is expected to arise from the contact between Asia and Africa. A close intellectual cooperation amongst Asian and African scholars will blaze a trail in shaping the future world order. I welcome this book as a collaborative model."
Ajay Dubey, Chairperson, Centre for African Studies, Jawaharlal Nehru University, India
"This collection of articles showcases some of the results from the works of Japanese and African researchers in a rare but ideal collaborative effort spanning almost a decade. Both African and Japanese researchers attempt to reconstruct concepts such as 'informality' and 'futurity' and turn them into something more convivial. In this sense, this collection offers a stimulating ideological experiment on the creation of new intellectual space."
Hiromu Shimizu, Professor Emeritus, Kyoto University, President of the Japanese Society of Cultural Anthropology
"This stimulating compilation undertakes a unique approach – providing us with a solution to Africa's contemporary problems from Japanese-African perspectives. This compilation is the outcome of their endeavours. One of the merits of this compilation is that it pursues a praxeological approach stressing latent problem-solving abilities, that is African potentials, for addressing diverse challenges that face contemporary Africa."
Prof. Chang Yongkyu, Director, Institute of African Studies, Hankuk University of Foreign Studies, South Korea President, Korean Association of African Studies
"The volume The Challenge of African Potentials is an eclectic mix of contributions from African and Japanese scholars based on field work in different African contexts. Adopting a humanistic and empathetic approach to African lives and futures, the volume draws some parallels from Japan's history, culture and experiences with Western universals and standards to urge space for the multiple knowledge systems, openness and creativity in Africa to be used to realise its potentials. It is to be hoped that this collaboration will develop into dynamic exchanges that also enable African scholars to study Japanese societies and people firsthand."
Takyiwaa Manuh, Professor Emerita, University of Ghana, Legon
"This is a brilliant introduction to the power and potentials of informality in contemporary Africa. Open, broad and convivial, it challenges the usual images of backward Africa projected through the lenses of Western modernity. Play, parties, laughter and satire create alternative space for life and passages for development. It is a rare and eye-opening account on everyday life in African societies through a decade-long collaborative work of African and Asian activists and scholars."
Byung-Ho Chung (Professor of Hanyang University, South Korea, and Former President of Korean Society for Cultural Anthropology)
About the Editors
Yaw Ofosu-Kusi is Associate Professor of Social Studies and Dean of the Faculty of Social Sciences of the University of Education, Winneba, Ghana. He obtained his doctorate degree in Applied Social Studies from the University of Warwick, United Kingdom. His research interest is primarily in urban childhood and the informal economy, with specific attention given to child migration, street life and labour, and children's agency. One of his publications is 'Dreams, expectations and experiential realities of street children in Accra, Ghana', and Narrating (Hi)Stories in West Africa (Berlin: Lit Verlag 2015).
Motoji Matsuda is Professor in the Graduate School of Letters at Kyoto University.