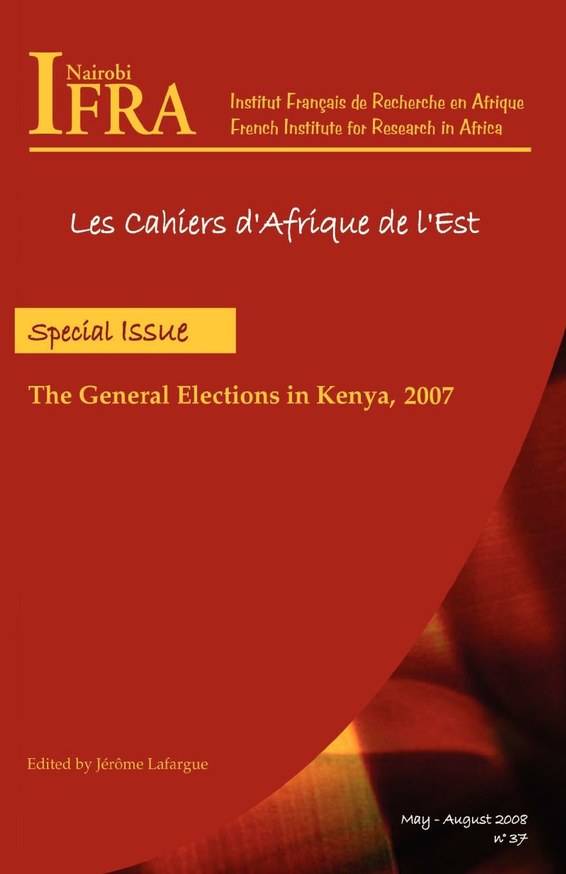 | | |
| --- | --- |
| ISBN | 9789987080199 |
| Pages | 396 |
| Dimensions | 216 x 140 mm |
| Published | 2009 |
| Publisher | Mkuki na Nyota Publishers, Tanzania |
| Format | Paperback |
The General Elections in Kenya, 2007
The 2007 general elections in Kenya led to major unrest. The aim of this book is to examine and analyse the events that set the country on fire for several weeks. The situation has largely stabilised since April 2008, when the articles collected in this book were first individually published. Some political information has been updated post April 2008. The coalition government took shape with Mwai Kibaki remaining President while Raila Odinga became the Prime Minister. The country however remains in suspense, as do the donors who had made it possible for Kenya to restore a semblance of peace. But to what point will they be interested in investing in the country and to protect their place in it?
The collection comprises a translation of a special issue of Les Cahiers d'Afrique de l'Est, n°37, the journal of the Institut Français de Recherche en Afrique (IFRA) and a collection of articles from Politique Africaine, n°109. On site researchers - Bernard Calas, Anne Cussac, Dominique Connan, Musambayi Katumanga, Jérôme Lafargue, and Patrick Mutahi; fieldwork carried out between December 2007 and February 2008 by Florence Brisset-Foucault, Ronan Porhel, Brice Rambaud; and in-depth country knowledge by Claire Médard and Hervé Maupeu, combined to produce a mass of data within a short time. Whilst the tone of the book is not highly optimistic, the thrust is not intended to dampen the unanimous sense of hope in the country that the political and social situation will once more be more than just tolerable.
About the Editor
Jerome Lafargue is researcher in Political Science and ex-Deputy Director at IFRA. He is now Lecturer at University of Pau and Pays de l'Adour, France.