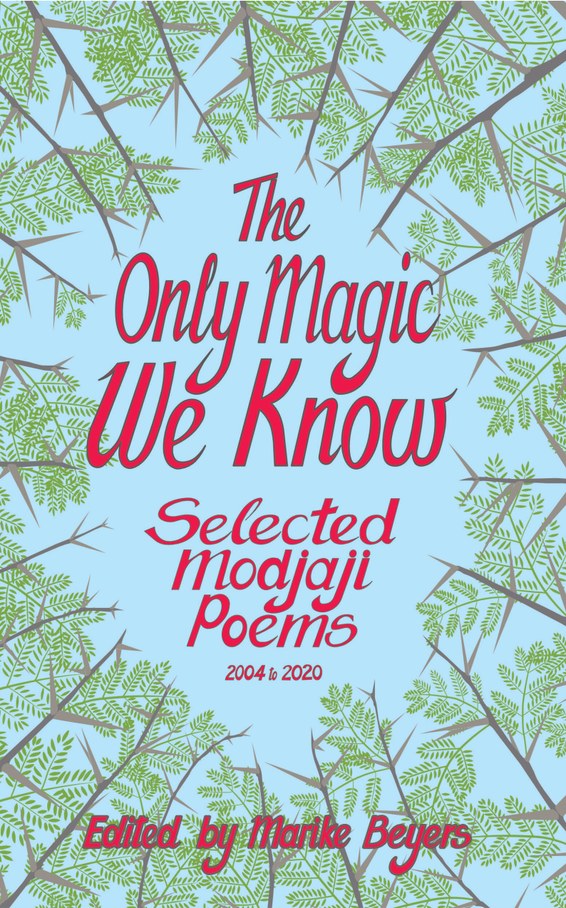 | | |
| --- | --- |
| ISBN | 9781928215882 |
| Pages | 292 |
| Dimensions | 210 x 140 mm |
| Published | 2020 |
| Publisher | Modjaji Books, South Africa |
| Format | Paperback |
The Only Magic We Know
Selected Modjaji Poems 2004 to 2020
The Only Magic We Know is a celebration of all the poets Modjaji has published. This anthology offers a taste of the range and diversity of the poems that have appeared in the individual poets' collections. The authors include:
ingrid andersen • marike beyers • melissa butler • margaret clough • christine coates • colleen crawford cousins • phillippa yaa de villiers • isobel dixon • sarah frost • elisa galgut • dawn garisch • megan hall • kerry hammerton • khadija tracey heeger • colleen higgs • eliza kentridge • haidee kotze • sindiwe magona • michelle mcgrane • jenna mervis • joan metelerkamp • helen moffett • malika ndlovu • tariro ndoro • azila talit reisenberger • shirmoney rhode • beverly rycroft • arja salafranca • karin schimke • katleho kano shoro • thandi sliepen • annette snyckers • jeannie wallace mckeown • crystal warren • robin winckel-mellish • wendy woodward • makhosazana xaba • fiona zerbst
Review
"The Only Magic We Know embraces poetry's expansiveness through its selections… It builds on Modjaji's work to accentuate poetry's hybrid capacities. Texts include familiar contemporary forms like the prose poem and the confessional, and novel, serial poems that play with dictionary forms, litany, and multimedia content. Despite these varied forms, the poems are drawn together in common themes which emerge across four sections which trace themes of embodiment, life, collectivity, and craft… The poets' voices weave together, creating a choral sensibility that highlights what is shared between individual experiences in a diverse literary community."
About the Editor
Marike Beyers lives and works in Makhanda (previously known as Grahamstown) as a literary curator at Amazwi South African Museum of Literature. Being bookish by nature, things archival, library-like and writerly draw her. In this regard she has published two collections of poetry - On Another Page by Aerial Publishing and How to Open the Door by Modjaji Books - and is involved in editing, reviewing and working with a community writing project and, of course, reading.