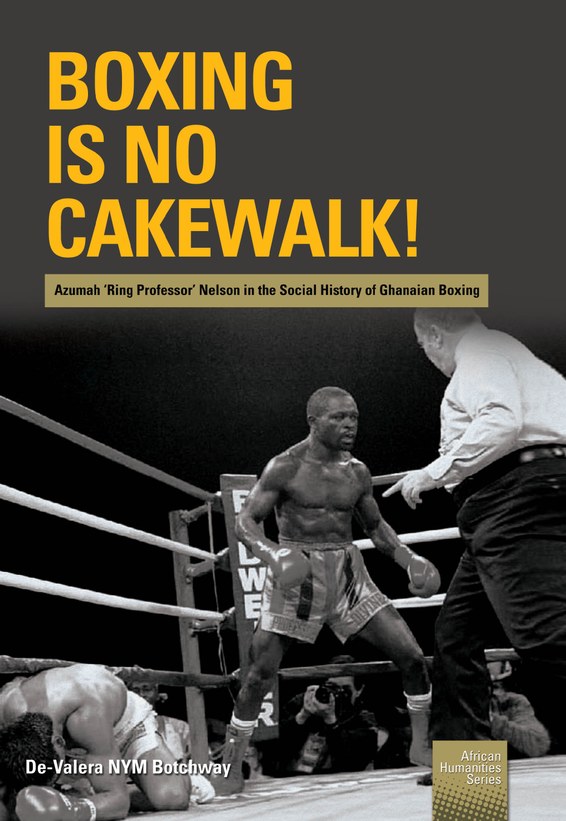 | | |
| --- | --- |
| ISBN | 9781920033569 |
| Pages | 286 |
| Dimensions | 244 x 170 mm |
| Published | 2019 |
| Publisher | NISC (Pty) Ltd, South Africa |
| Format | Paperback |
Boxing is no Cakewalk!
Azumah 'Ring Professor' Nelson in the Social History of Ghanaian Boxing
Boxing is no cakewalk! Azumah 'Ring Professor' Nelson in the Social History of Ghanaian Boxing explores the social history of boxing in Ghana and its interesting nexus with the biography of Azumah Nelson, unquestionably Ghana's most celebrated boxer. The book posits that sports constitute more than mere games that people play. They are endowed with enormous political, cultural, economic and social power that can influence people's lives in various ways.
Boxing is no cakewalk! interrogates the social meaning and impact of boxing within the colonial and postcolonial milieux of popular culture in Ghana. Consequently, it reconsiders the prevailing conception of boxing as adversative to 'enlightened' human culture by arguing that it is a positive formulator of individual and national identities. The historicising of sports and the lives of sportspersons in Ghana provides an eloquent backdrop for an understanding of the past social dynamics and their effect in the present.
The book's analytical narrative offers an intellectual contribution to the promising areas of social and cultural history in Ghana's historiography and the scholarly discourse on identity formation and social empowerment through the popular culture of sports.
Review
"Boxing is no cakewalk! Azumah 'Ring Professor' Nelson in the Social History of Ghanaian Boxing is a rich resource for knowing and understanding the social history not just of boxing in Ghana, but of boxing generally. I commend Professor Botchway for writing it."
Dr Mustapha Abdul-Hamid, Minister for Inner City and Zongo Development & Senior Lecturer, University of Cape Coast, Ghana