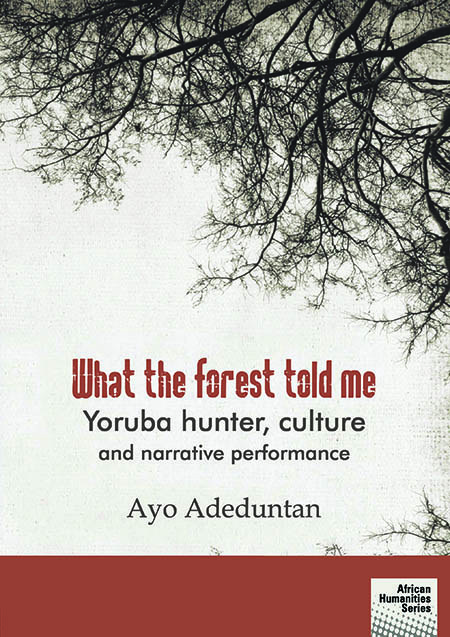 | | |
| --- | --- |
| ISBN | 9781920033415 |
| ePub ISBN | 9781920033439 |
| Pages | 156 |
| Dimensions | 244 x 170 mm |
| Published | 2019 |
| Publisher | NISC (Pty) Ltd, South Africa |
| Formats | Paperback, eBook |
What the forest told me
Yoruba hunter, culture and narrative performance
Studies of Yoruba culture and performance tend to focus mainly on standardised forms of performance, and ignore the more prevalent performance culture which is central to everyday life. What the Forest Told Me conveys the elastic nature of African cultural expression through narratives of the Yoruba hunters' exploits. Hunters' narratives provide a window on the Yoruba understanding and explanation of their world; a cosmology that negates the anthropocentric view of creation. In a very literal sense, man, in this peculiar world, is an equal actor with animal and nature spirits with whom he constantly contests and negotiates space.
Adeduntan offers new insights into key aspects of Yoruba culture, while providing a close appraisal of particular texts and contexts of oral performance forms. In doing so, he presents a fresh view of the poetics of oral performance, rising above generalisation and mere description.
Review
I have been very much enlightened by this book. Adeduntan has a magisterial command of his primary materials, and his critical and theoretical explorations are wide, deep, and sophisticated. There is no doubt about it: this is an exemplary model for a new Yoruba studies. It is, like the composite image of the hunter, a muscular herald of a new conceptually capacious direction in the study of African oral tradition, performance, and narrative, and in African cultural studies in general."
Tejumola Olaniyan, Louise Durham Mead Professor, University of Wisconsin­ Madison, USA